Rules of baccarat
Baccarat explained in 5 easy steps: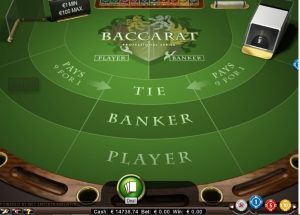 Step 1:
Finding good online baccarat at our recommended online casinos is very easy and there are plenty of online casino software providers supplying them. For our step by step guide, we've chosen NetEnt's excellent Baccarat Pro. As you can no doubt see from the above image, the table is clear and very easy to read. There is a space for placing your bet on Banker as well as a space for betting on the Player position or a Tie bet. The Tie bet pays the highest odds in the game but is also the most risky bet to make in baccarat.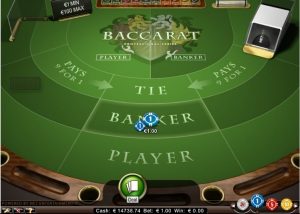 Step 2:
Once you have decided on which position you would like to bet on, choose a chip size from the bottom right of the screen that you are comfortable with. For our game, we have chosen to go with the table minimum which is a good idea if you are new to the game of baccarat. We have placed our bet on the Banker position to win. The next step is to click on the Deal button, this tells the game to deal the cards to both positions.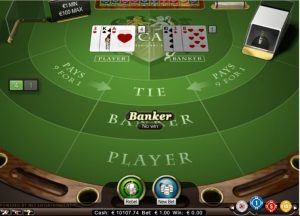 Step 3:
As you can see in our above image, our bet lost as the Player position won the hand. In this case you will have two basic options, you can either click on the 'Rebet' button, which will keep your chip in place at the previous betting position, or click on 'New Deal', for a new hand. If you click on New Deal, you will have to start from the beginning again, deciding on your chip size and betting position.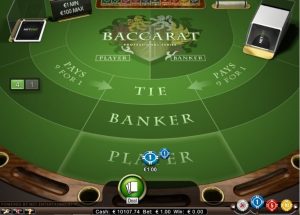 Step 4:
We've chosen to click on New Bet and have decided to stick with the same chip size as our previous bet. This time however, we have decided to bet on the Player position to see if our luck may change with the new betting position. Again, once you are happy with you bet, click on the Deal button to let the dealer deal the cards to both positions.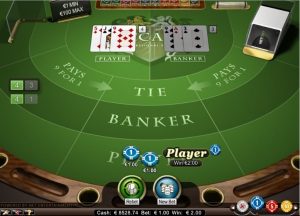 Step 5:
Our luck has come in and we have won our hand with betting on the Player position! Our winnings is an even money bet, meaning that we bet 1 chip and won a chip for a total of two chips. Again you can decide to keep your chips in play or bank them, if you decide to keep playing you can simply click on New Bet again.
Try Online Baccarat Now for Free!
How to Win at Baccarat
Generally speaking, the aim of any Baccarat game is to get a hand as close to a total of nine without exceeding this total. In this way Baccarat is similar to Blackjack and also shares a similar method of assigning value to different cards.
Card values in Baccarat are:
All tens, jacks, queens and kings (face cards) are valued at zero
All ace cards are valued at one
Number cards are valued at their face value
A two card total that exceeds ten will have the ten disregarded (eg: 10 + 3 = 3)
A natural hand is a two card hand that totals either 8 or 9
As online baccarat shares some of the same history and gaming similarities to its cousins, roulette and blackjack, you can borrow some of the popular betting strategies that are popular in both of those games. If you want to win at Baccarat, we go over more advanced baccarat strategies but we will list them here:
Paroli baccarat strategy
Fibonacci baccarat strategy
Labouchere baccarat system
More on Baccarat Odds
Baccarat presents a variety of betting odds and house advantages, depending on the type of baccarat bet that has been chosen and placed. In baccarat, there are only three types of bets that can be placed, and each of these comes with its own particular house edge percentage. Take a look at each of the bets below, along with their relative house edge percentage:
Banker bet: House Edge = 1.06%
Player bet: House Edge = 1.24%
Tie bet: House Edge = 14.36%
As you can no doubt see from this comparison, the Banker bet presents the lowest house edge while betting on a Tie presents the highest house edge percentage.

Baccarat Variations
Punto Banco

Punto Banco translates literally to Player Bank and is the most common form of baccarat found in the online casino due to the ease of play. The primary difference between Punto Banco and other forms of baccarat is that the better does not have any control over the cards being played. The decision to draw another card is left up entirely to a table (or tableau) that dictates whether the Player or the Banker get an additional card. You simply bet on the Player, Bank or for a Tie. There are slight variations to this game but in a standard 8 deck Punto Banco the house edge is 1.06% for Banker to win, 1.24% for Player to Win and 4.85% if Ties are paid out 9-1. If Ties are paid out at the lower 8-1 the house edge turns into a huge 14.4% advantage. Needless to say you should avoid betting Tie at all costs but otherwise Punto Banco offers some of the best odds at a casino.
Chemin de Fer
Chemin de Fer is a slightly more complex version of baccarat because the players have an option of whether to take another card or not. Players are randomly sat around the table and there are 6 decks, shuffled by each player, with betting and play starting counterclockwise. Each turn one player is selected as the banker and this moves counterclockwise throughout the game. The banker decides how much is to be wagered and the other players in turn can decide to "go bank" and match the wager. If no one goes bank then each player places their wager in order. If the total wager is more than the bank then the Banker has the option to raise the bet to match. If the Banker does not raise the bet then the extra wagers are removed in reverse order. If the bank wager is not met then people watching the game can match the bet. The dealer or banker then deals 4 cards face down, two to the Player and two to the Banker. The player who wagered the highest plays for all the other players. If one of the Banker or the Player declares they have an 8 or 9 then the cards are shown and a winner decided. If not, the player can choose a third card then the dealer can choose a third card, both dealt face up.
If the Player wins, the bets are paid out and the next player in turn becomes the banker. If the Banker wins, the Banker gets the money and they decide if they want to relinquish the Bank or continue. If there is a Tie all wagers remain in place. The new Banker will be the first person in order that wants to match the Banker wager otherwise the amount resets and the next player in turn to be the Banker sets a new amount to be wagered. Since the Player that bets highest draws a card for everyone that has bet, there is a standard set to determine whether they draw or not. They will hit if the Player's hand score is 0 to 4 and stand if the Player's hand score is 6 or 7.
Baccarat Banque
In Baccarat Banque the Banker is a more permanent position. The Banker is usually determined by the person willing to wager the most and will sit halfway along the table of ten Players. The five Players on either side of the Banker (and all people standing that will bet if the Player wagers are not enough to meet the Bank) are represented by one Player on either side of the Banker. The Players to either side may "go bank" with only one per side allowed. If only one goes bank then they match the Banker wager and if two go bank then they split the wager. The designated Player on either side will also shuffle the deck (usually 3 decks) with the Banker shuffling last and offering a cut to anyone. The Banker will deal three cards face down then three more face down to the Player on the right, the Player on the left and to the Banker themselves in order. Betting and play otherwise follows Chemin de Fer rules, including whether a Player draws another card or not. A Player may go bank up to three times before passing the option on. The Banker can remain as long as they are willing to place the minimum wager. If the Players bet more than the Bank, then the bank is not responsible for losing the excess. The money will be paid out in order with the last bets not getting paid unless the Bank has agreed to match the total wager.
Reasons to love online baccarat:
Baccarat is easy to play and can be a lot of fun
There are a wide variety of online baccarat games to choose from
Baccarat offers great betting odds and some low house edge percentages
One of the best casino games to make a profit
Some things you may not love:
Playing online baccarat uses RNG's which not everyone is comfortable with
Unless you're playing Live Dealer baccarat, online baccarat lacks that human touch.
Our Top 10 Picks for Baccarat Casino

Betway Casino offers Canadians an exclusive sign up bonus of up to $1500 split over several deposits to help ensure that your first experiences with this Microgaming casino is top notch. You can also enjoy great online roulette, mobile roulette and exciting Live Dealer roulette.

Spin Palace is a firm favourite with Canadian online casino gamers as the brand offers a wide range of games covering slots, baccarat, roulette and many others. Canadians can also enjoy exclusive bonus offers and promotions, secure banking and solid customer support.

Platinum Play Casino lives up to its name by offering a platinum playing experience for Canadian players. Expect top bonus offers which includes a $1,500 Welcome Bonus and a range of easy banking options, just for Canadian players. The brand offers top games including slots, roulette, blackjack, baccarat and many others, available through Instant Play or mobile casino.

Casino Room is quite unique and offers a mission-based rewards program, as you complete games from top software providers including NetEnt, Microgaming, Betsoft, and Thunderkick, you get rewards, points and other promotions at the casino. Casino Room features multiple licensing from Malta, Curacao, and the UK Gambling Commission.

InstaCasino features a wide range of games including baccarat, poker, roulette, blackjack, and slots from different software providers including Microgaming, NetEnt, Betsoft, Nyx Interactive and Play'n GO. Canadian players can also enjoy live dealer casino games, 24 hour customer support and great bonus offers in CAD.

If you loved Guts Casino, then get ready for Rizk, brought to you by the same design team. Rizk Casino offers a fun and quirky playing environment with plenty of gaming options including the latest versions of online craps. Expect top Canadian casino bonus offers, secure banking and much more.

888 Casino is one of the oldest online casinos in the business and offers an exclusive bonus for Canadian players. Expect world class 254 hour customer service, unique 888 promotions, secure banking and plenty of games featuring 888 Casino's exclusive proprietary software.

Canadians love Microgaming games including baccarat, blackjack, roulette and slots. Ruby Fortune is a dedicated Microgaming casino offering top Canadian bonuses, secure banking and solid customer support in multiple languages.