Rules of Online Poker
Online poker explained in a few easy steps: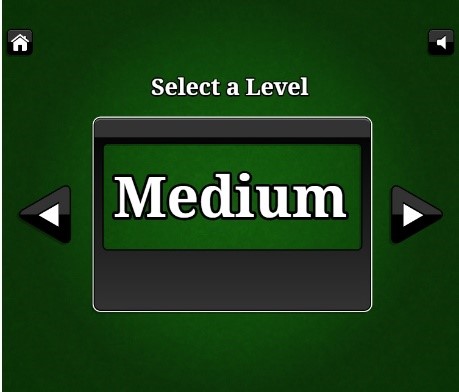 Step 1:
Finding great online poker games is very easy as it is one of the most played games on the web. Our top online casinos for Canadians also offers a great range of excellent online poker variations sourced from top software providers including Playtech, Microgaming, NextGen Gaming, Amaya, NetEnt and more. For our simple step by step demonstration, we've chosen a classic Texas Hold'em online poker game. With this particular version, you can select your level of game based on your actual playing experience, including easy settings, medium and hard settings.
Step 2: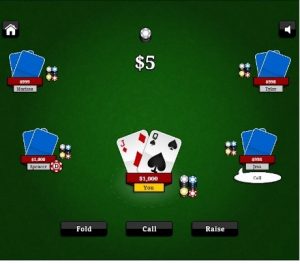 Most online poker games use a standard deck containing 52 cards. In poker, all cards are counted as their relevant poker value, with Ace cards counting as both low and high cards, depending on the game and the hand being constructed. In our above two screenshots, you can see our current two card hand in the middle of the screen. Right in the centre of the screen is the pot, this is where all the players will place their bets as the round progresses. The game starts at the top right as this is the designated dealer position. In most online poker games, the game moves around the table starting at the dealers left, the immediate position to the dealer is known as the small blinds which is then followed by the big blind. This essentially means that the first player, immediately to the left of the dealer must make a small bet into the pot, followed by the next player who must make a big bet into the pot. Once this has occurred, you will now see betting options pop up under the hand you are playing. In the above example, our position is the one immediately to the left of the big blind. This means that we have to now make a decision to either call or raise the big blind bet. The round then keeps moving in a clockwise direction.
Step 3: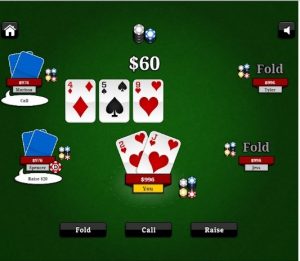 After this round has completed, three community cards are then dealt into the middle of the table. As you can see from the above screenshot, these cards are dealt face up so everyone can compare them to their own two card hand. The idea is to try and make the best possible hand to win the round or pot. The three community cards are known as the "flop" in poker. This is then followed by another round of betting, again moving in the same direction off the dealers left.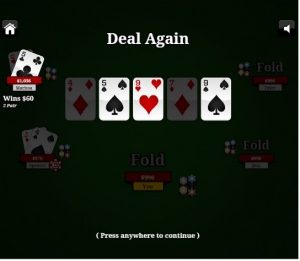 Step 4:
After this round of betting has completed, a fourth card is then added to the flop which is called the "turn" or "turn card". This is then followed by another round of betting which is usually double the value of the first two rounds of betting. Finally, a fifth card is added which is known as the "river" card.
A fourth community card will be dealt face up in the centre of the table. This card is called the "turn."A final round of betting is then followed by players still in the game trying to get the best possible hand, combing one or both of tier cards with any of the five community cards on the table. The player with the best possible hand combination wins the pot.
Take a look at the following possible hand combinations and their descending value:
Royal flush = 5 consecutive suited cards starting going from 10 to Ace (10, J, Q, K A)
Straight flush = 5 consecutive suited cards (5, 6, 7, 8, 9)
Four of a kind = 4 cards of the same rank + any 5th card. For example (K, K, K, K +5)
Full house = 3 of a kind + a pair (7, 7, 7 + Q, Q)
Flush = Any 5 cards of the same suit (K, A, 8, 5, 3)
Straight = 5 consecutive cards of different suits (6, 7, 8, 9, 10)
Three of a kind = 3 cards of the same rank + any other 2 cards (4, 4, 4 + 2, 6)
Two pair = 2 pairs + any 5th card (6, 6, 2, 2 + J)
Pair = A pair + any other 3 cards (5, 5 + J, 2, 7)
Try Online Poker Now for Free!          
Online Poker Strategies
There is an age old saying that says poker is an easy game to learn and a hard game to master. Many Canadians agree with this old sentiment and experienced online poker players know that there is always something new to learn in online poker. Whether you are new to the game of online poker or an experienced campaigner, these online poker tips should certainly help you in your next online poker game.
Poker playing styles
Aggressive poker playing style: This style of poker playing is characterized by a lot of betting and aggressive play such as making big bets, opening pots and so on. The basic idea with aggressive poker playing is to put your opponents under pressure and keep them on the back foot.
Passive poker playing style: This works in the opposite way to aggressive poker playing style and is used for different reasons. A passive poker playing style is characterized by less betting and more calling. The advantage of this is that your opponents will be under pressure to dictate the flow of the game and make betting decisions.
Loose poker playing style: This poker playing style can work really well in certain poker situations. The style is characterized by a lot of hands and a greater willingness to take more risks or bigger gambles.
Tight poker playing style: This is a good poker playing style to start out with and it is characterized by a more conservative approach with fewer risks and less hands per session.
Ultimately, the best approach is a mix of poker playing styles and the ability to modify your playing style based on each and every individual poker game that you play. One of the best online poker strategies is to be able to switch things up right in the middle of a game, going effortlessly from one poker playing style to another. This will keep your opponents guessing as to your next move more than if you stick to a single poker playing style throughout.
It's better to be late than early
Tactically speaking, in poker, it's generally better to be late in the playing order as you can get a better idea of what your opponents are doing. A standard round of poker begins with the dealer position and moves left in a clockwise rotation. This means that the dealer is also the last person to play in a round, making it a particularly advantageous position to be in.
The dealer position changes after every round of poker in order to keep things fair. The best positions therefore are the ones closest to the dealer's right, as they are the last to act before the dealer does. This makes late positions more advantageous strategically. In fact, in poker, players occupying the late positions are known to 'have position' over their opponents. Similarly, players that are in early positions in a round are technically 'out of position' or at a disadvantage.
More on Online poker Odds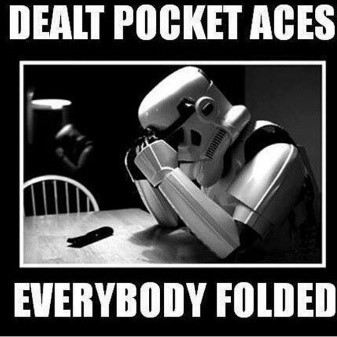 Odds in poker have to do with figuring out what your chances are of winning a hand or pot in a poker round. This is often referred to as "pot odds". While the mechanics of working out your breakeven ratio (money in the pot versus the bets you have to make to stay in the running) can be quite complex, there are two essential areas of calculating pot odds, after the flop and after the turn.
Basic pot odds after the flop:
4 to a flush = 34.97% /1.86
4 to an outside straight = 31.45%/2.18
4 to an inside straight = 16.47%/5.07
Basic pot odds after the turn:
4 to a flush = 19.57%/4.11
4 to an outside straight = 17.39%/4.75
4 to an inside straight = 8.70%/10.50
Reasons to love online poker:
Online poker can be easy to learn and can be a lot of fun
There are thousands of online poker games available
You can use online poker strategy to win consistently
Female poker players are becoming a force
Some things you may not love:
Online poker can be quite intense and it is recommended to take it slow in the beginning
Other than Live Dealer poker, online poker can lack the human element
Our Top Picks for playing online poker

888 Casino is one of the oldest online casinos in the business and offers an exclusive bonus for Canadian players. Enjoy a range of roulette variations offering highest quality graphics and gameplay, thanks to 888 Casino's exclusive proprietary software.

Canadian players can expect a fantastic welcome bonus of CA$1600 as well as world class gaming including slots, poker, roulette, blackjack and more. Expect multilingual customer service, secure gaming and Canadian-focused banking.