Best Online Roulette Casino in Canada
Top Roulette Online Casinos

April 2021

Rank
Casino
Bonus
Visit
Info
Review

1

Royal Vegas Canada

$1200

Play now

Several different roulette games on offer
Win big with Roulette Royale

Royal Vegas Canada

4.5/5

2

Jackpot City Canada

$1600

Play now

Spin to win with Jackpot City
Get lucky with progressive roulette

Jackpot City Canada

5/5

3

888 Casino Canada

$1500

+ $88 No deposit free spins

Play now

Low stakes roulette available
Play French, American, or European

888 Casino Canada

4/5

4

Spin Casino

$1000

Play now

Play all classic roulette variations
Take advantage of statistical data

Spin Casino

5/5

5

Casino.com

$1000

+ 200 free spins

Play now

All standard roulette variations
Play 3D or multi-wheel roulette

Casino.com

5/5
Special Online Roulette Promotion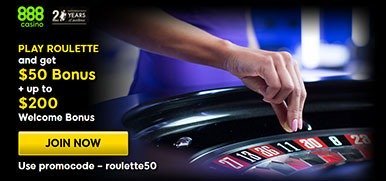 888 Casino Roulette Promotion: $50 Free Play on Deposit
If you are like us, you love to play some Roulette and we have joined with 888 Casino to offer Canadian roulette players an extra special Welcome Bonus offer. Sign up to 888 and deposit a minimum of $20 and you will get $50 Free Play on European Roulette in addition to having your deposit money matched at 100% up to $200 which you can play anywhere at the casino. This is a great offer with low 30x wagering requirements so use the link here and Bonus Code: roulette50 to snag this offer. T&Cs Apply
Claim now
Rules of Roulette Online
Roulette explained in 5 easy steps: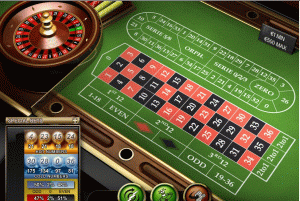 Step 1:
Once you have found an online roulette variation that appeals to you, click to enter the game. With most online roulette games such as the example above from NetEnt, you can choose to either play for real money or just for fun. Playing for fun is a great way to see if the version of roulette is right for you. It is also a great way to practice your roulette game, perfecting strategies or trying new ideas out.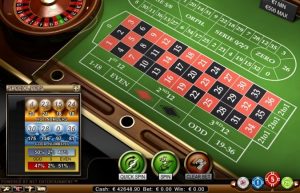 Step 2:
Decide how much you would like to bet per spin. In this online roulette version, you can see different coin size options in the bottom right of the screen. The game will also tell you what the table minimum bet per round is, in case you want to use that as your basic betting unit size. This can be very handy for using one of the many roulette betting strategies discussed later in this guide.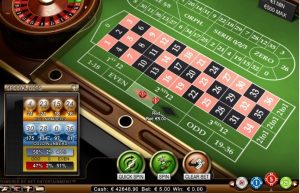 Step 3:
Now it's time to decide what sort of roulette bet you would like to make. If you are new to the game, it is often best to start with an outside bet. If you look at the above image, you can see a chip has been placed on the colour red position. Betting on either red or black, or betting on odd numbers or even numbers, is the easiest of all roulette bets to make.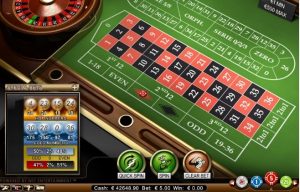 Step 4:
Once you have placed your bet and are sure that you are happy with it, you can go ahead and click on the spin button. This will begin to spin the roulette wheel and you can watch as the roulette ball spins around the wheel in the opposite direction.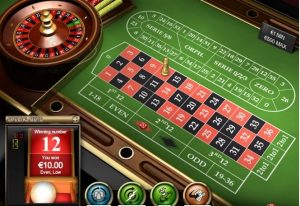 Step 5:
Once the wheel has come to a stop, the game will automatically announce the result. In this case you can see in the above image that we were lucky on this round and won. You can now decide to place another bet or you can collect your winnings from the cashier. You could also decide to expand your betting options. You will also notice that the roulette table offers a grid of numbers to bet on. This is known as inside betting and offers a variety of additional options including:
Betting on a number which gives you 35: 1 odds
Betting on a square of 4 numbers with 8:1 odds
Betting on three numbers (street bet) with odds of 11:1
Betting on 2 numbers (split bet) with odds of 17:1
Game play
Roulette is an interesting game with a spinning wheel, betting table, and an ivory ball. There is a spinning disk on the roulette wheel that has divisions around its edges. This allows the wheel to revolve around the base of a bowl, where an ivory ball is spun (around the outside corner). Players must wait until the wheel eventually comes to rest and the ball lands in one of the divisions. The divisions of the wheel are numbered in a seemingly random pattern with alternate red and black colours ranging from 1 to 36. In addition to these numbers, there is also a number 0, which is known as the green division (in European and French roulette). On American roulette, however, there is an extra green division marked as double zero (00).
Mechanics of the game
Before rolling the ball, people are required to place bets (any amount) on what number they think the ball will land at. This is usually done by laying down chips on a betting mat. However, it is imperative that you place the chips at a precise location and number(s); otherwise, you may lose your chances of winning. Also, keep in mind that roulette is a game of French origin. Although there are many variation of the game, the French terms on the betting area will still be used. In the original French roulette, the numbers ranging from 1 to 36 had both: the "Zero" and the "Double Zero". The Double zero is counted as "Passe" and "Impair" and is found in black colour. The Zero is counted as "Manque" and "Pair" and is found in red colour. If the ball falls into one of the two zero divisions, all stakes are lost and taken by the Casino. Conversely, if the bet is matched by being Manque, Passe, Noir, Rouge, Impair, or Pair, the stakes are put on hold until the next spin.
Wheel layout
As mentioned earlier, the divisions of the wheel are numbered from 1 to 36. The layout of the numbers may be random, but usually in number ranges of 19 to 28 and 1 to 19 - even numbers are black and odd numbers are red. In ranges from 29 to 36 and 11 to 18 – even numbers are red and odd are black. There is a green division number as zero (0). In American roulette variants though, there is a second green division marked as double zero (00). The layout and pocket number order of the wheel follows a clockwise sequence, as seen below: Single-zero wheel 0-32-15-19-4-21-2-25-17-34-6-27-13-36-11-30-8-23-10-5-24-16-33-1-20-14-31-9-22-18-29-7-28-12-35-3-26 Double-zero wheel 0-28-9-26-30-11-7-20-32-17-5-22-34-15-3-24-36-13-1-00-27-10-25-29-12-8-19-31-18-6-21-33-16-4-23-35-14-2
Odds in Roulette
Similar to other gambling games, roulette is all about the odds. To get the most out of your play, it is vital to understand how much of an advantage you need to overcome and how often you can expect to win (or in simple words – the "probability"). At the most basic level, roulette odds are based on "House Edge" – the advantage a particular casino holds over the gambler/player/better. In European Roulette, the house edge is 2.70% (1/37) on almost all types of bets. For American roulette variants (due to the "double zero"), the house edge for the casino is 5.26% (or 2/38). This edge is calculated by dividing the number of zeroes in a wheel by the total number of pockets. However, this is the most basic of roulette odds. In order to understand the game, I will have to go a little deeper into the subject. Below are a few examples of odds:
Red/Black (Even Money Bet) – Players win if the ball comes to a halt on any of the 18 pockets that share that colour. This makes your chances of winning 17/36 or probability approximately 46%. For "Even Money" bets, calculating the house edge is actually quite straightforward – 52% of the time you will lose a bet and 46% of the time you will gain a bet.
Single Number Bets – Things get a little trickier with this bet specifically. For instance, let us say we place a bet on a single number. The bet pay of it is 35-1. This means, you can only win if the ball hits the exact number you placed the bet on, meaning that your odds of winning this spin are 1/36, or 2.50%. When you lose, you lose only one unit. When you win, you win 35 units.
Inside bets
Roulette is all about anticipating the type of pocket or number the ivory ball is going to land on. To do this, you have numerous options for placing bets. However, if you are looking for one that has higher paying odds, then you might want to consider "Inside" bets (placed on specific numbers). You can bet:
The chip that lies on the edge of two adjoining streets
"Six lines" betting on "6" numbers pays 5 to 1
"Corner" betting on "4" numbers pays 8 to 1
"Street" betting on "3" numbers pays 11 to 1
"Split" betting on "2" numbers pays 17 to 1
"Straight up" betting on "1" number pays 35 to 1
Outside bets
Among the numbers options of placing bets is "Outside" bets. This form of betting does not involve specific numbers. They are typically made on the number map outside, hence why it is called placing an "Outside" bet. The specifics are below:
Low or high bets pay 1 to 1
Dozen betting on first-twelve numbers pays 2 to 1
Betting on 12 numbers or on column pays 2 to 1
Odd or even betting pays 1 to 1
Colour betting (black or red) pays 1 to 1
Online Roulette Playing Strategies
Some of the best Roulette Playing Strategies are:
| | | |
| --- | --- | --- |
| | James Bond Roulette System | |
| | | |
| | Labouchere Roulette System | Fibonacci Roulette System |
| | D'Alembert Roulette System | |
| Martingale Roulette System | | |
Top 5 Playing Tips
Keep your eyes on the table – If you decide on playing for long. Remember what colours and numbers a particular table hits mostly. Also, try keeping track of your previous score, as it can help you predict numbers and colours for the next rounds.
Bet more on "outside" – If you are looking for a way to increase your chances of winning and earn higher profits, then make sure to bet on outside chances like Dozens, Columns, High/Low, Even/Odd, and Red/Black.
Practice makes perfect – Try your roulette on a free table, before operating it for financial gain. Preferably, you should practice on a table that enables you to spin the wheel without laying a bet. You can find plenty of online roulette free casino games for practice.
It is not a competition – Bear in mind that roulette is a game where you are not engaged in a competition with the casino. Subsequently, make sure to shift your entire focus on generating profits rather than beating the casino.
Play online, safely – If you are playing online, go to a reputable casino website. I have given some recommendations above regarding the best online casinos to play roulette at.
Online Roulette Systems
Although there is nothing wrong about staring at the roulette wheel as it spins and just hoping for a win, some of the best roulette players make use of several roulette strategies to increase their odds of winning, and so should you. Here are some of the most popular roulette systems that can be used with any roulette variation:
Online roulette strategies can go a long way in helping your roulette game. Some online roulette strategies have been around for almost as long as the game itself. Other roulette strategies are a bit newer, the following will give you some insight into popular online roulette strategies which you can use for your roulette game.
FOBT System
FOBT stands for Fixed Odds Betting Terminal and it is a form of roulette that is becoming very popular in physical bet shops and other establishments licensed to offer FOBT machines. The machines are quite similar to slot machines in appearance but are completely different in the way they work. Unlike slots, there is no progressive jackpot. As the name suggests the odds are fixed, meaning that they do not change based on the amount of money being bet. Other than that roulette FOBT machines follow the same basic online roulette rules and the majority offer a house advantage of 2.7% (European roulette).
Even Chance Bet Strategies (Red and Black Strategies)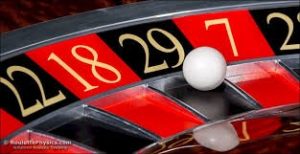 Even chance strategies are ones where you bet on locations that have an equal or 1:1 payout.  These include Red or Black, Odd/Even and 1-18/19-36 bets.  Equal chance betting is extremely popular with Canadian online roulette players and is also often referred to as outside betting or even money betting. Specifically, red and black strategies refers to the number of different roulette strategies that use the colours red or black as the basis of their betting systems. The concept means that you choose one of red or black and continue betting that colour until you win (or lose) according to one of the systems outlined below.  The same would hold for the other even payout bets, Odd/Even and 1-18/19-36, and they can be used interchangeably.
Positive vs Negative Progression Systems
Positive progression betting systems are ones that increase the bet after a win while negative progression systems increase the bet after a loss.  While the terms positive and negative may seem like one is better than the other, this is not the case.  It merely represents whether your system progresses on a win or a loss.  The progression part of the term means that your bet amounts will vary by an increasing amount according to an established set of guidelines.
Online Roulette Strategies
Martingale Roulette System
Possibly the most famous (or infamous) roulette betting systems of all, the Martingale follows a negative betting progression, meaning you double your bet on every loss and return to the beginning of the sequence on a win. If you start at $1 and if you lose, you bet $2.  If you lose again, you bet $4 then $8, $16, $32 and so on.  Once you win you start back at $1.  You can choose to start at any dollar amount.  The notable downside to the Martingale betting system is that the size of your bet can get very big during a long losing streak, making it one of the most dangerous betting systems in roulette.  Doubling anything repeatedly is exponential growth and the numbers can become astronomical.  $2 doubled 30 times would make the next bet over one billion dollars.  Your winning will wok out as follows.  For a $1 bet you obviously win that amount for each time you win at the base bet.  When you finally win after a series of losses you would win back those losses.  For example, if you bet $1 and lose 6 times, doubling your bet each time, you will have lost 1+2+4+8+16+32=$63. On the 7th bet, if you win, you will have bet $64 and will win back $64 at a 1:1 payout.  Returning back to your original $1 for the following bet means that you will have again won $1 at the end of the run.  You can see that you will win $1 for every bet that you win over the course of a betting session.  All works well, until a long losing run comes up and the betting stakes get very high.
Reverse Martingale Roulette System
As the name suggests this works the opposite to the Martingale system where you double your bet after every win and start over after every loss.  This positive betting progression allows you to walk away with a huge payout after a streak wins.  It is best to decide your streak number ahead of time so that you know when to walk away since with one loss you will lose all of your winnings in that round.
Fibonacci Roulette System
The Fibonacci betting system was adapted to the game of roulette and uses the well-known Fibonacci sequence to determine your bet size as you progress in your game of roulette. The Fibonacci betting system is safer than the Martingale as it is more gradual and is also a negative progression betting system. Simply adding the previous two numbers together in the sequence will give you the next number:
1 – 1 – 2 – 3 – 5 – 8 – 13 – 21 – 34 – 55 – 89 – 144 – 233 – 377 – 610
In this scenario, $1 will represent the amount of money you are willing to bet in the beginning of the game.
If you lose that bet on the first round, you will add the next numbers in the Fibonacci series and bet that amount on the next round.  If you lose for five straight, you would bet $1, $2, $3, $5, and then $8 on each subsequent round.
However, if you win, you delete the two most recent numbers of the series to lower your bet. So, if you win after the 5th round of betting of $8, you would drop back to a $3 bet.
You can start at any point in the series and are not required to start at $1.
Reverse Fibonacci
Based on the Fibonacci betting system for roulette but works in the opposite way. With the Reverse Fibonacci system, you will need to move forward one step in the sequence for a win and will need to move back two steps in the sequence for a loss. This version of the Fibonacci betting system is less popular as it requires a lot more wins in order to show any sort of profit.
Labouchere Roulette System
Many Canadian roulette players actually prefer the Labouchere over other red and black betting strategies like the Martingale. It is an even chance system, meaning you need to bet red/black, odd/even or 1-18/19-36 to make it work.  The Labouchere betting system is also known as the cancellation system since the player is required to cross off a series of numbers during their roulette game. You will need to determine your projected winning total and work out a series of numbers that add up to that total. The value of each bet is determined by adding the first and last two numbers together. If you win, you cancel those two numbers from the list and keep going until you are left with one or two numbers which make up the final bet total. For example, you determine you want to win $10:
Make a list that adds up to $10.  The numbers in bold will be your first bet: 1, 2, 3, 2, 1, 1
Bet the total of your first and last numbers: 1+1 = 2
When you win, erase the first and last number so your remaining list is: 2, 3, 2, 1
Bet your first and last numbers again: 2+1 = 3
If you now lose, add your loss amount of 3 to the end of the list like this: 2, 3, 2, 1, 3
Bet your first and last number 2+3= 5
If you lose again you will need to add 5 to the end of the list: 2, 3, 2, 1, 3, 5
Bet your first and last number 2+5= 7
If you win, you again remove the first and last number from your list which will now be: 3, 2, 1, 3
Bet your first and last numbers and continue until you have enough wins such that all the numbers have gone.
This roulette system proves effective as you choose the amount of money you should win in the end.  The drawback, like all negative progression type systems is that the amount you have to bet during a long losing streak can get very large.  Keep in mind that this will still be far less than other systems such as the Martingale.
Flat Betting
Flat betting is probably the simplest of all red and black betting strategies to use as there is no mathematical progression to worry about. As the name may suggest, flat betting keeps the same bet size on each and every bet during a roulette game. The flat bet betting system is less favoured than other betting systems as it often loses out to the house edge in the long run.
D 'Alembert System
The D' Alembert System is one of the simplest roulette systems out there. After choosing a bet, the bet is increased by one unit after each loss and is decreased after each win. However, be wary as this system dependent on this popular gambling myth that: wins are more likely to come after a streak of losses and losses are more likely to come after a streak of wins. Moreover, this claim, as you can probably guess already, is nothing but false!
Other Systems
There are many other roulette systems; some rely on the gambler's fallacy, while others search for patterns and follow streaks. However, the main thing players need to understand that roulette is a game of chance. While it would be wise to follow systems like Labouchere that counsel careful betting, you should not fall victim to the strategies sold online as they cannot be trusted.
More on Roulette Odds
Roulette odds are quite varied which is one of the reasons for the games continued popularity. Ultimately, the odds of a specific type of roulette game is determined by the house edge or house advantage. This is the advantage that the casino has over the player and it is expressed as a percentage.
French and European roulette have more or less the same house edge percentage of 2.7%, while the American version of roulette holds the highest house advantage at 5.26%. The main reason for this is that the American version of roulette features an extra zero position, known as the "double zero".
The type of bet that you make at the roulette table also determines the roulette odds of winning. For example, placing a simple outside bet (red and black bet) gives you a 46% chance of winning. On the other end of the spectrum, betting on a single number or 'straight up bet' gives you a 1 in 36 chance of winning which equates to 2.5% odds.
Game Variations
European roulette online
European Roulette is one of the most famous types of game variations that are commonly found in most online casinos. This form of roulette has no double zero holes, giving players better opportunities to win. For instance, if you plan to bet $1, you can easily expect to get back 97 cents over the long run. On the other hand, if you play American roulette, you will only get 94 cents.
French roulette online
French Roulette is the original game from which multiple variations have been created. There are many similarities of this game with the European counterpart. The main difference is: the original French roulette has numbers 1 to 36 with both: zero and double zero. The double zero is counted as "Passe" and "Impair" and is in black colour. The Red is counted as "Manque" and "Pair" and is in red colour.
American roulette online
The American Roulette has a double-zero and 36 regular numbers. The chances of winning in this game are relatively lower than French and European variants. When you bet on a single number, there is a 1/38 chances of winning. This means, due time out of every 38 spins, your chances of winning is 1. The double zero on the American Table also gives better house edge and advantage to the casino. So, if you are new to the roulette and plan on playing the game online, make sure to follow the above guide. Online roulette can present many opportunities for players to double their cash, as it easy to understand and play. To test your luck out with the game, make sure to visit only the best online casinos. My recommendations for roulette casinos are 888 Casino, Jackpot City, and Royal Vegas.
Reasons to love online roulette:
Easy to play, especially outside bets (red and black bets)
One of the best casino games to play at home
Online roulette is faster than land-based casino roulette
You can play online roulette at any time, no waiting for other players
The online roulette table is easy to see clearly, only your bets are on the table
You can get great online roulette bonuses at select and especially new Canadian casinos
Some things you may not love:
Online roulette is not the same as playing at a real casino roulette table
Some players don't like random number generators
There is no real human interaction, just you and the computer. However, most top Canadian online casinos now offer real Live Dealer roulette where you can get a live streaming video from a real casino, pretty close to the real thing in every way.
More Online Casino Games