Rules of Roulette
Roulette explained in 5 easy steps: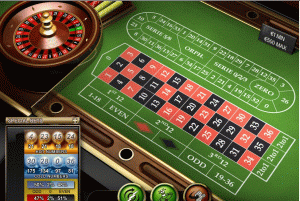 Step 1:
Once you have found an online roulette variation that appeals to you, click to enter the game. With most online roulette games such as the example above from NetEnt, you can choose to either play for real money or just for fun. Playing for fun is a great way to see if the version of roulette is right for you. It is also a great way to practice your roulette game, perfecting strategies or trying new ideas out.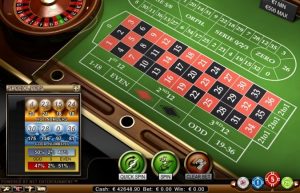 Step 2:
Decide how much you would like to bet per spin. In this online roulette version, you can see different coin size options in the bottom right of the screen. The game will also tell you what the table minimum bet per round is, in case you want to use that as your basic betting unit size. This can be very handy for using one of the many roulette betting strategies discussed later in this guide.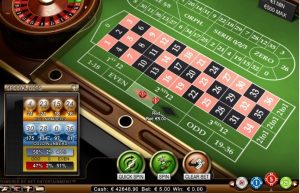 Step 3:
Now it's time to decide what sort of roulette bet you would like to make. If you are new to the game, it is often best to start with an outside bet. If you look at the above image, you can see a chip has been placed on the colour red position. Betting on either red or black, or betting on odd numbers or even numbers, is the easiest of all roulette bets to make.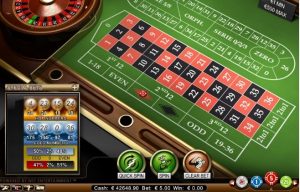 Step 4:
Once you have placed your bet and are sure that you are happy with it, you can go ahead and click on the spin button. This will begin to spin the roulette wheel and you can watch as the roulette ball spins around the wheel in the opposite direction.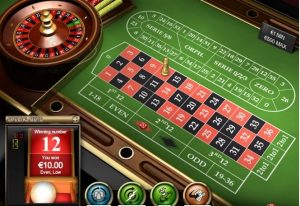 Step 5:
Once the wheel has come to a stop, the game will automatically announce the result. In this case you can see in the above image that we were lucky on this round and won. You can now decide to place another bet or you can collect your winnings from the cashier. You could also decide to expand your betting options. You will also notice that the roulette table offers a grid of numbers to bet on. This is known as inside betting and offers a variety of additional options including:
Betting on a number which gives you 35: 1 odds
Betting on a square of 4 numbers with 8:1 odds
Betting on three numbers (street bet) with odds of 11:1
Betting on 2 numbers (spilt bet) with odds of 17:1
Game Play
Roulette is an interesting game with a spinning wheel, betting table, and an ivory ball. There is a spinning disk on the roulette wheel that has divisions around its edges. This allows the wheel to revolve around the base of a bowl, where an ivory ball is spun (around the outside corner). Players must wait until the wheel eventually comes to rest and the ball lands in one of the divisions. The divisions of the wheel are numbered in a seemingly random pattern with alternate red and black colors ranging from 1 to 36. In addition to these numbers, there is also a number 0, which is known as the green division (in European and French roulette). On American roulette, however, there is an extra green division marked as double zero (00).
Mechanics of the Game
Before rolling the ball, people are required to place bets (any amount) on what number they think the ball will land at. This is usually done by laying down chips on a betting mat. However, it is imperative that you place the chips at a precise location and number(s); otherwise, you may lose your chances of winning. Also, keep in mind that roulette is a game of French origin. Although there are many variation of the game, the French terms on the betting area will still be used. In the original French roulette, the numbers ranging from 1 to 36 had both: the "Zero" and the "Double Zero". The Double zero is counted as "Passe" and "Impair" and is found in black color. The Zero is counted as "Manque" and "Pair" and is found in red color. If the ball falls into one of the two zero divisions, all stakes are lost and taken by the Casino. Conversely, if the bet is matched by being Manque, Passe, Noir, Rouge, Impair, or Pair, the stakes are put on hold until the next spin.
Wheel Layout
As mentioned earlier, the divisions of the wheel are numbered from 1 to 36. The layout of the numbers may be random, but usually in number ranges of 19 to 28 and 1 to 19 - even numbers are black and odd numbers are red. In ranges from 29 to 36 and 11 to 18 – even numbers are red and odd are black. There is a green division number as zero (0). In American roulette variants though, there is a second green division marked as double zero (00). The layout and pocket number order of the wheel follows a clockwise sequence, as seen below: Single-zero wheel 0-32-15-19-4-21-2-25-17-34-6-27-13-36-11-30-8-23-10-5-24-16-33-1-20-14-31-9-22-18-29-7-28-12-35-3-26 Double-zero wheel 0-28-9-26-30-11-7-20-32-17-5-22-34-15-3-24-36-13-1-00-27-10-25-29-12-8-19-31-18-6-21-33-16-4-23-35-14-2
Odds in Roulette
Similar to other gambling games, roulette is all about the odds. To get the most out of your play, it is vital to understand how much of an advantage you need to overcome and how often you can expect to win (or in simple words – the "probability"). At the most basic level, roulette odds are based on "House Edge" – the advantage a particular casino holds over the gambler/player/better. In European Roulette, the house edge is 2.70% (1/37) on almost all types of bets. For American roulette variants (due to the "double zero"), the house edge for the casino is 5.26% (or 2/38). This edge is calculated by dividing the number of zeroes in a wheel by the total number of pockets. However, this is the most basic of roulette odds. In order to understand the game, I will have to go a little deeper into the subject. Below are a few examples of odds:
Red/Black (Even Money Bet) – Players win if the ball comes to a halt on any of the 18 pockets that share that color. This makes your chances of winning 17/36 or probability approximately 46%. For "Even Money" bets, calculating the house edge is actually quite straightforward – 52% of the time you will lose a bet and 46% of the time you will gain a bet.
Single Number Bets – Things get a little trickier with this bet specifically. For instance, let us say we place a bet on a single number. The bet pay of it is 35-1. This means, you can only win if the ball hits the exact number you placed the bet on, meaning that your odds of winning this spin are 1/36, or 2.50%. When you lose, you lose only one unit. When you win, you win 35 units.
Inside Bets
Roulette is all about anticipating the type of pocket or number the ivory ball is going to land on. To do this, you have numerous options for placing bets. However, if you are looking for one that has higher paying odds, then you might want to consider "Inside" bets (placed on specific numbers). You can bet:
The chip that lies on the edge of two adjoining streets
"Six lines" betting on "6" numbers pays 5 to 1
"Corner" betting on "4" numbers pays 8 to 1
"Street" betting on "3" numbers pays 11 to 1
"Split" betting on "2" numbers pays 17 to 1
"Straight up" betting on "1" number pays 35 to 1
Outside Bets
Among the numbers options of placing bets is "Outside" bets. This form of betting does not involve specific numbers. They are typically made on the number map outside, hence why it is called placing an "Outside" bet. The specifics are below:
Low or high bets pay 1 to 1
Dozen betting on first-twelve numbers pays 2 to 1
Betting on 12 numbers or on column pays 2 to 1
Odd or even betting pays 1 to 1
Color betting (black or red) pays 1 to 1
Roulette Playing Strategies
Some of the best Roulette Playing Strategies are:
| | | |
| --- | --- | --- |
| | James Bond Roulette System | |
| | | |
| | Labouchere Roulette System | Fibonacci Roulette System |
| | D'Alembert Roulette System | |
| Martingale Roulette System | | |
Top 5 Playing tips
Keep Your Eyes On the Table – If you decide on playing for long. Remember what colors and numbers a particular table hits mostly. Also, try keeping track of your previous score, as it can help you predict numbers and colors for the next rounds.
Bet More on "Outside" – If you are looking for a way to increase your chances of winning and earn higher profits, then make sure to bet on outside chances like Dozens, Columns, High/Low, Even/Odd, and Red/Black.
Practice makes Perfect – Try your roulette on a free table, before operating it for financial gain. Preferably, you should practice on a table that enables you to spin the wheel without laying a bet. You can find plenty of online roulette free games for practice.
It is Not a Competition – Bear in mind that roulette is a game where you are not engaged in a competition with the casino. Subsequently, make sure to shift your entire focus on generating profits rather than beating the casino.
Play Online, Safely – If you are playing online, go to a reputable casino website. I have given some recommendations above regarding the best online casinos to play roulette at.
Game Variations
European Roulette
European Roulette is one of the most famous types of game variations that are commonly found in most online casinos. This form of roulette has no double zero holes, giving players better opportunities to win. For instance, if you plan to bet $1, you can easily expect to get back 97 cents over the long run. On the other hand, if you play American roulette, you will only get 94 cents.
French Roulette
French Roulette is the original game from which multiple variations have been created. There are many similarities of this game with the European counterpart. The main difference is: the original French roulette has numbers 1 to 36 with both: zero and double zero. The double zero is counted as "Passe" and "Impair" and is in black color. The Red is counted as "Manque" and "Pair" and is in red color.
American Roulette
The American Roulette has a double-zero and 36 regular numbers. The chances of winning in this game are relatively lower than French and European variants. When you bet on a single number, there is a 1/38 chances of winning. This means, due time out of every 38 spins, your chances of winning is 1. The double zero on the American Table also gives better house edge and advantage to the casino. So, if you are new to the roulette and plan on playing the game online, make sure to follow the above guide. Online roulette can present many opportunities for players to double their cash, as it easy to understand and play. To test your luck out with the game, make sure to visit only the best online casinos. My recommendations for roulette casinos are 888 Casino, Jackpot City, and Royal Vegas.
Our Top 10 Picks for playing online roulette

888 Casino is one of the oldest online casinos in the business and offers an exclusive bonus for Canadian players. Enjoy a range of roulette variations offering highest quality graphics and gameplay, thanks to 888 Casino's exclusive proprietary software.

While known mostly for their slots, this Microgaming powered online casino caters to the exclusive needs of Canadian roulette players with over 9 different versions of top Microgaming roulette to choose from. You can also enjoy an exclusive $1600 Canadian Welcome Bonus.

Royal Vegas has been online since 2000 and is another fine example of a top Microgaming-powered online casino. Royal Vegas offers an excellent selection of online roulette which can also be enjoyed on their fantastic mobile casino app.

Betway Casino offers Canadians an exclusive sign up bonus of up to $1500 split over several deposits to help ensure that your first experiences with this Microgaming casino is top notch. You can also enjoy great online roulette, mobile roulette and exciting Live Dealer roulette.