Welcome to 2020 and Happy New Years! Software providers have been spinning out new slot games all year long but now we are turning the page on 2019 and let's look at some of the best new slot games from some smaller software providers. Elk Studios, Quickspin and Yggdrasil have been pumping out games at a good rate and most of their latest titles are worth trying out but we list some of the better ones to come out at the tail end of the year. We wish you many free spins bonus rounds and jackpots for 2020!
Elk Studios
Elk Studios is a full service online casino gaming software brand and, not only produce incredible slots and casino games, but also provide casino gaming servers that generate hundreds of transactions every second. Like many of our top online casino software brands for 2019, Elk Studios is based in Stockholm, Sweden.
Valkyrie Slot Game
Elk Studios has produced some great slots over the past couple of years, with the likes of Platooners, Vegas Diamonds, and Taco Brothers, already reaching cult status. Their latest creation, Valkyrie, kicks off 2019 with a theme based on some of the most popular elements of Nordic Mythology. Vikings and related themes are very popular right now so Elk Studio's Valkyrie has been released at the perfect time.
The Valkyrie are female warrior figures tasked with the responsibility of choosing which warriors die on the battlefield and which ones live. The warriors that die are transported by the Valkyrie to Valhalla, where they dine for eternity in the house of Odin.
Elk Studios have created a magnificent themed video slot here, with fantastically rendered characters including the four Valkyries; Helena, Tyrsa, Gane and Andora, along with the Norse goddess of love, Freya. The introduction animation for Valkyrie is a must-see and it sets a dramatic and exciting tone for the game to come. Set in the mythical world of Midgard and Helheim, you must battle your way to fame, fortune and glory.
Valkyries features 5 reels but instead of the usual 3 row structure, Elk Studios have added an additional row for more space to create valuable combinations. To further augment wins, Elk have added a 1024 ways to win system over standard paylines. The highlight of Valkyrie has to be its bonus features, which includes the Sword of Destiny feature, the Shield of Chance feature, and the Arrow of Fortune feature. Each feature adds something special including stacked wild reels and Epic symbols when Freya fires an arrow at the reel set. You also get a free spins bonus round which will also include one or more of the special Valkyrie features, depending on how many scatters you manage to land.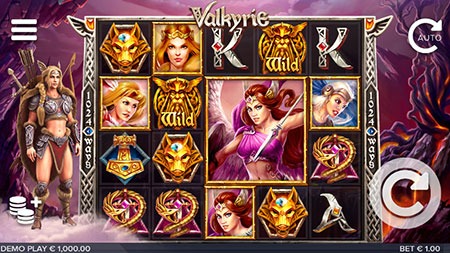 Features:
Sword of Destiny
Shield of Chance
Arrow of Fortune
Valkyrie Free Spins
Slot Details:
Reels: 5
Rows: 4
Paylines: 1024
RTP: 96.3%
Variance: High
Max Win: 5000x
Quickspin
Quickspin is another new generation online software provider specializing in online video slots. Interestingly, the parent company of Quickspin happens to be none other than Playtech, so right off the bat we know the quality here will always be excellent.
Tiger's Glory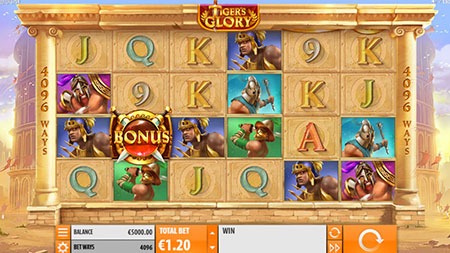 Tiger's Glory is set in ancient Rome, at the height of the Coliseum and its daily gladiatorial contests and battles between man and beast. Quickspin pays tribute to the mighty tiger, a favourite show at the Coliseum. Right from the start Quickspin has upped the ante somewhat, with a 6 reel game instead of the standard 5 reels, and 4 rows in place of the usual 3 rows. This extra reel can play a crucial role in how you do on this high variance video slot. Adding even more fuel to the fire, Tiger's Glory also features an incredible 4096 ways to win instead of the usual set of paylines.
In terms of overall look and feel, Tiger's Glory is less impressive than some of the other new video slots we've already mentioned, such as Rocket Fellas or Nitro Circus. However, this is not to say that the game is dull. The artwork is reminiscent of old school cartoons and comics, with gladiators in various fighting stances and wielding various iconic weapons, playing card values (9, 10, A, J, Q, K) looking as if they were carved out of stone, and of course the central character, the tiger himself.
Tiger's Glory comes with two main special symbols, a wild and a scatter. Both of these symbols play a key role throughout the game and will determine just how well you do in the arena. The wild symbol is represented by the golden wreaths set on a red background, while the scatter symbol consists of a shield with crossed swords and with the word BONUS emblazoned across it. You can win up to 20 free spins by getting 6 bonus scatter symbols to appear across the reels. Free spins include sticky wilds and the chance for the Enraged Tiger symbol to appear, triggering a contest between tiger and gladiator.
Features:
4096 ways to win
Tiger Battle Feature including Sticky Wilds
Enraged Tiger Battle Free Spins bonus
Slot Details:
Reels: 6
Rows: 4
Paylines: 4096 ways to win
RTP: 96.5%
Variance: High
Max Win: 13000x
Ivan and the Immortal King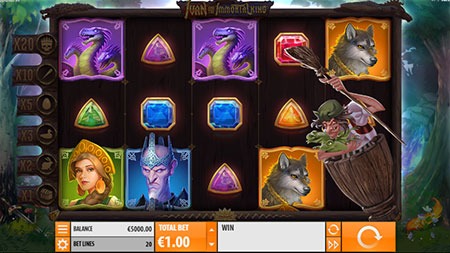 Based on an Old Russian folk tale, Ivan and the Immortal King Slot features the standard 5 reels x 3 rows layout, supporting 20 fixed paylines. In the story, Ivan is tasked with a difficult mission, to destroy the evil and immortal king Koschey. To do this, Ivan needs to find Koschey's soul which is hidden inside a needle. However, that needle is also hidden inside an egg, which is in a duck, which is in a hare, which is in a chest! As a player, you embody Ivan, and must find the chest, kill the hare, capture the duck, open the egg and break the needle in order to defeat King Koschey.
In the Quickspin slot, Ivan is not very smart and not very strong. However, he does have luck, which you will need to win your spins and defeat the king. If you happen to be a fan of Quickspin, then this new slot will fit right in with what you would usually play from this developer, such as their Big Bad Wolf slot, or The Three Musketeers and so forth. A fun fact that you may notice when playing Ivan and the Immortal King, is that it used the very same music as the original Tetris game did, which also happens to be Russian.
Aside from an exciting and fun base game, Ivan and the Immortal King also features a bonus round and a surprise feature. The Baba Yaga Surprise feature features a witch, the Baba Yaga, popular in Slavic fairy tales. This is a random feature and can appear during the base game or during the free spins rounds, and can help you, or make things harder for you. The game also features a free spins bonus round which is triggered by the games scatter symbol. Depending on how many scatters you land, you will win free spins in various quest levels. Getting 3 scatters will yield 10 free spins on Chest level, 4 will trigger 14 free spins on Hare level, and 5 will trigger 18 free spins on Duck level.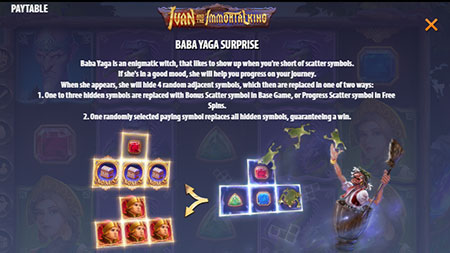 Features:
Baba Yaga Surprise Feature
Koschey Free Spins including Level-up Multipliers
Slot Details:
Reels: 5
Rows: 3
Paylines: 20 Fixed
RTP: 96.29%
Variance: High
Max Win: 10000x
Yggdrasil
Since we've just discussed Elk Studio's tribute to one of the most popular elements in Norse Mythology, we thought it would be fitting to round off our list with an online software provider that draws inspiration from another legendary element of Norse Mythology – Yggdrasil. In Norse cosmology, Yggdrasil is the giant mythical tree that connects the nine worlds together. However, in this world, it represents one of the most innovative and exciting online casino software developers today.
Nitro Circus Slot Game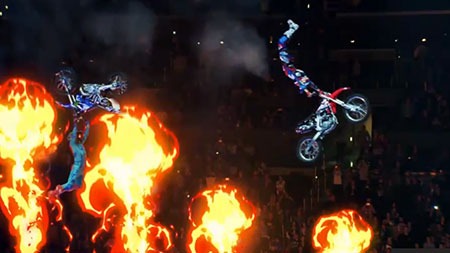 We kick off our trio of delectable Yggdrasil slots with Nitro Circus, based on massive hit MTV series that ran from 2012 to 2014. In reality, Nitro Circus was a travelling circus made up of famous dirt bike riders with the world-famous extreme bike daredevil, Travis Pastrana at the helm. This is Yggdrasil's first branded slot and is already proving to be a big draw at online casinos that are now featuring the game.
Getting down to nuts and bolts, Nitro Circus follows a 5 reels x 4 rows structure supporting 25 paylines. The paylines are not fixed and, together with the wide coin range, ensures that just about anyone can enjoy this high-octane video slot. Nitro Circus slot is geared towards adrenaline junkies and those that enjoy a fast-paced action-packed slot. You get to enjoy all the action from today's best stunt riders and extreme sports stars with seven different vehicles that you can fly through the air on in stunts designed to net you multipliers and massive bonuses.
The really big attractions in Nitro Circus are the bonus games and features, which includes a super-exciting Nitro-Blast Mini Game, a Free Spins Mode with up to 30 free spins, and collectable vehicles, free spins multipliers and more.
Features:
Nitro Free Spins
Nitro Jump Feature
Nitro Blast mini game
Slot Details:
Reels: 5
Rows: 4
Paylines: 25
RTP: 97%
Variance: Medium
Max Win: 258,750
Baron Samedi Slot Game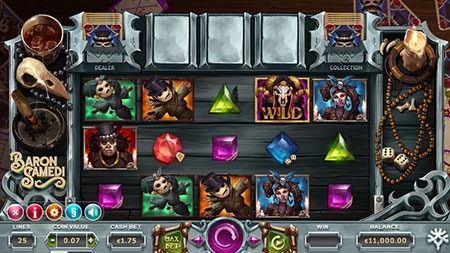 Everybody loves a bit of spooky now and again and Yggdrasil's Baron Samedi does spooky better than most. When you play Baron Samedi, you enter into the strange and mysterious world of voodoo magic. The titular character is based on Haitian folklore and wears a top hat, tailcoat, dark glasses and, interestingly, cotton stuck up his nose.
Yggdrasil has really gone all out with this themed slot, and it has to be one of their more complex pieces to date. In fact, we think Baron Samedi is more complex and intriguing than just about any other online slot in this genre.
The storyline is loosely based on an enigmatic figure named Baron Samedi, who is, in voodoo lore, a loa (a spirit in Voodoo beliefs), and more specifically, a loa of the dead. A key feature of the Baron Samedi slot is the Collectible Magic Cards feature. This is something that you won't find in too many other slots, and it adds a lot of charm and intensity to the gameplay.
Baron Samedi also features wilds and multipliers, mystery symbols, stacked wilds, guaranteed win lines and more. The Voodoo respin feature gets going once two scatters land on the reels. Three of the collectible cards are dealt and a respin occurs. The cards contain multipliers and you get to add to your collection any cards you don't already have.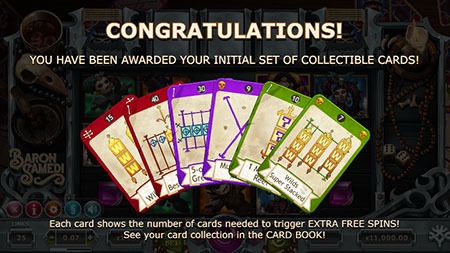 Features:
36 collectible cards features
Up to 3 features in each free spin
Voodoo Respin Feature
Slot Details:
Reels: 5
Rows: 3
Paylines: 25
RTP: 97%
Variance: Medium
Max Win: 1200x
Time Travel Tigers Slot Game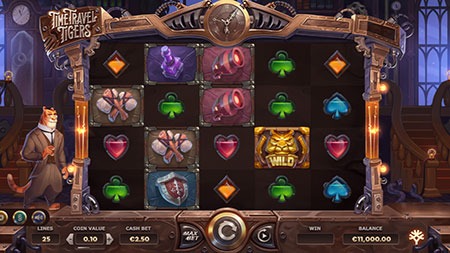 Rounding out our trio of incredible Yggdrasil slots is their brand-new addition, the enticingly named Time Travel Tigers. This is another slot that features 4 rows and not the usual 3, giving you more scope per spin.
If there is one thing that Yggdrasil are really good at, it is creating incredible stories and characters that could rival the best that Disney and Pixar produce.
In Time Travel Tigers, we are introduced to the central character, the mad and zany Dr Tigerstein. As mad scientists are known to do, Dr Tigerstein has created a time machine, which is also the core feature of the slot. The reason for this is simple, whenever you trigger a free spins round, your create a rip in the fabric of the time and space continuum.
This has the effect of sending you off to one of four eras in our history including medieval Europe, the distant future, prehistory, or Ancient Egypt.
Each of these iconic eras will give you a certain amount of free spins, along with a number of interesting wilds including diagonal wilds, cluster wilds, random wilds and adjacent wilds.
Features:
Up to five times multiplier in free spins round
Four unique free spins modes
Guaranteed wilds
Slot Details:
Reels: 5
Rows: 4
Paylines: 25
RTP: 97%
Variance: Medium
Max Win: 1000x
Hopefully there are some real money slots here that tickle your fancy. Be sure to check out our top Canadian online casinos to play any of these titles.