How To Play Poker Online?
Are you the only one among your friends who finds it tricky to get the hang of online poker?
You do not have to feel left out anymore since this guide will walk you through how to play poker with friends online!
Moreover, the game is growing in popularity more than ever. So, it's never too late to get started.
With a little effort, you can learn to play poker online like a pro quickly. All you need is a little bit of your precious time, a decent internet connection, and a few quick clicks.
You will have to create an account on reputed online sites. There are plenty of options to choose from on PC, iOS, and Android platforms. These sites will allow you to play for money or free as you wish.
Without further ado, dive right in and help yourself find your rightful seat at the poker table.
Online Poker: An Overview
Online poker is the same as playing the familiar and fun game of poker over the internet. Similar to playing poker physically, these games are filled with plenty of action, involve skills, and concentration. Plus, it comes with the usual elements of good luck and hard luck.
The internet adds an extra layer of anticipation and fun when playing with friends. While it has several benefits, many people are wary about the level of safety online poker platforms can provide.
For instance, you can be worried if the games are rigged or if your personal information is secure. These fears are legitimate, yet there is nothing to worry about when playing on a reputed poker site. These sites meet the strict standards set by regulatory bodies.
History of Online Poker
The first free online poker game became popular during the late 1990s among some players of the time. The first online card room to offer real money games was called Planet Poker. However, it was not until the 2000s the online games became more mainstream.
Before this, you could play poker only in casinos and bars. With the advancement in technology and access to the internet, many online poker sites started popping up. Only in the 2000s did the poker sites have the technology and resources to ensure user safety.
The sites offered numerous features that are still in active use today to attract new players. One of the most popular features is called Satellites. Here, winners of online poker games gain entry to real-life poker tournaments.
The Moneymaker Effect
During this early rise of online poker, a player named Chris Moneymaker won an entry to the 2003 World Series of Poker through a satellite tournament.
He then won the main event and went home with 2.5 million dollars. This shock and enthusiasm around the tournament led to the beginning of the poker boom.
Almost a decade of developments later, PokerStars, an online poker company, was publicly traded with an initial bid costing a whopping 4.9 billion dollars.
Now, the industry is more extensive than ever, with the past few years bringing in new players and more profit. You can also see online games start to slide into smaller private poker clubs.
Online Poker vs. Live Poker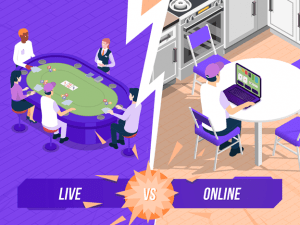 Online poker is similar to traditional live poker in many significant ways. However, there are some important differences you should know about. The differences include accessibility, level of risk, and bet sizing.
If you are used to playing live poker, you may find switching to the online world quite challenging. On the other hand, if you are entirely new to poker, you can start immediately with just a little guidance.
Here's a small list of differences to help you understand better:
Online poker is fast-paced compared to live poker since the former has tougher competition on average
You can play against anyone from anywhere in the world with online poker
Unlike live poker, you can multi-table with online poker
You can explore more pre-flop online games compared to offline
There is no verbal binding involved in online poker since you have to show your decisions with buttons on the screen
Live poker games have narrower hand ranges
You can play for a smaller amount of money (available in pennies) in online poker
Online Poker and Real Money
You can deposit your real money to your online poker account on the sites that host these games. Generally, you will have many banking options, including e-wallet and debit cards for depositing and withdrawing money.
The amount of money you can deposit or withdraw at once varies from one site to another. At the same time, the transaction period also varies depending on the transaction method and the site policies.
Many sites offer responsible gaming options where you can set a limit on the amount of money you can deposit. Further, you will receive several in-account cash in the form of bonuses and promotions, which can boost your chances of winning more games.
One of the most attractive features of learning how to play poker online is, the platforms let you start for low prices. You can start playing the game for as little as 10 dollars in your game account.
Get Started Online: How to Play Poker for Dummies?
Learning how to play poker for beginners should not be difficult. There is a plethora of sites that a very user-friendly and allow you to navigate your options easily.
Firstly, you will have to find a secure and suitable website. Once you do so, you can access it via your computer browser. You can even find mobile-friendly options to access it through your phone.
With a perfect platform, you do not have to make space for any new technology and just start your game.
Do I Need Money Get Started with Online Poker?
You can play online poker without any money. Many reputed sites will allow you to play poker and other online casino games without downloading or depositing. For instance, Replay Poker is a site that offers a wide range of games, and it does not require a cash deposit.
On the downside, you will miss out on the welcome bonus that most popular online casinos offer.
Typically, the minimum amount you will have to deposit to receive a bonus will be between ten dollars and 25 dollars. There are also several online casinos that will let you pay as little as 0.01 dollars. You will have to deposit this money upon registration.
How to Play Online Poker for Beginners?
As mentioned earlier, you can plunge right in after finding the right poker website for you. Typically, you will need a device that can let you use the website effectively.
You do not need a gaming computer or a super-fast internet to use it properly. The website will not be taxing on your phone or computer's memory.
With this simple set-up, you can learn how to play poker casino using the following steps:
Step #1. Download the Software
You can start by downloading the online casino software of your choice. Depending on your internet connection speed, it will hardly take a few seconds or minutes for this step.
Alternatively, you can try poker platforms that offer 'no download' games. This way, you do not have to worry about computer memory or other security issues while enjoying the same benefits.
After downloading, as with any software you want to use, you should install it by clicking on it twice.
Step #2. Create Your Account
Once the installation is complete, you should create a user account at the site. You should also accept the site's privacy policy, terms, and conditions.
Furthermore, you should be 18 years or older to create the account. If the legal age to play online poker stated by your local rules is higher, you should abide by the authorities.
There will be verification processes to confirm your age, so it is impossible to access them if you are not over the legal age. Plus, the site will verify other personal information that you provide, including your email address.
Step #3. Deposit the Money
You can deposit the money at the online casino's cashier. The sites usually offer a handful of payment options for players' convenience.
Generally, the sites accept VISA, Maestro, or Mastercard and e-wallet options. The payment options may vary depending on your location. Additionally, some sites accept cryptocurrencies such as Bitcoin and Ethereum as deposit options.
If you do not find any of these methods convenient, you can choose direct bank transfer. Or, you can even request hard cash in an envelope through the mail.
After completing the payment process, you can head to the game section and browse poker gameplays. Then, you can start having fun by clicking on the gameplay that appeals to you.
How to Play Poker Online with Friends?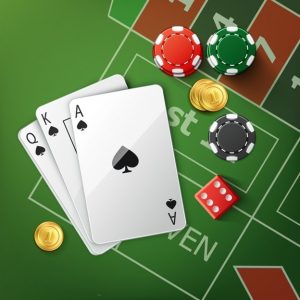 You can play poker online with friends by downloading the software or app on your devices. Many sites offer a feature to create your private poker room.
You can use this feature by—
Creating your private poker room
Clicking and copying the link for the room
Then, share the link with your friends
Once they accept the link and join the room, you can start playing.
Many platforms offer an integrated voice chat or video chat. If it is not available, you can use third-party video apps like Zoom, Skype, and Microsoft Teams.
Types of Poker Games Online
Online poker comes in many variants and versions. While some are like the traditional live games, others are entirely new. No matter the type, all of them are created to boost entertainment and allure players.
The most popular of these types are also found in land-based casinos. Nonetheless, unconventional online poker games have gained popularity in recent years.
Some of these popular types of poker games include—
Texas Holdem: Texas Holdem or Texas Hold 'em is arguably the most popular variant in casinos in Canada. It is simple and strategic at the same time. Besides, you can learn how to play poker Texas Holdem easily with a few lesson videos.
Caribbean Stud Poker: This is an interesting game where you play directly against the dealer instead of another player. The game has a similar style and rules to that of 5-card stud.
Poker lotto: It is a Watch' n Win game, an entertaining way to play the lottery with instant in-store wins. The steps are super easy, and you do not need a lot of time to learn how to play poker lotto.
5-Card Draw: This game is popular in live casinos as well as online casinos. It is available in several variations across websites.
Casino Hold 'em: Casino Hold'em is another game that poker players enjoy. In this game, you have to sit across from the dealer to create the best five-card hand.
There are numerous other options, including Pot Limit Omaha, Open Face Chinese (OFC) Pineapple, Pai Gow Poker, Short Deck Hold'em, 7 Card Stud, and Razz. All of these games are available in many different formats, from cash games to huge tournament events.
Game Formats
Now that you know the varied types of poker games, it's time to explore the formats. The format decides the way you can win money and interact with other players. The three basic forms include—
Tournaments: Online poker tournaments are among the most famous formats in live casinos and online casinos. Here, you pay for a stack of chips, and when you lose the chips, you lose the game. If you manage to collect all the chips, you will be declared the winner.
Cash Games: This is a classic game form where you buy in with cash and chips that have real money value. During the course of a game, you can cash out at any time. Many people favor this over other formats because it offers more flexibility and time.
Sit & Go: This format is similar to tournaments, but they happen on a smaller scale. It attracts a vast number of players regularly. Plus, it takes less time than tournaments to finish.
How to Find the Best Online Poker Platforms?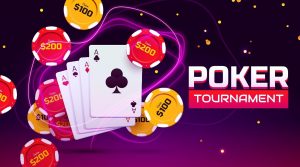 As mentioned earlier, there are plenty of online platforms that let you play poker day in, day out. This does not mean all the poker sites are reliable, well-reputed, and secure. Therefore, it is crucial to take your time and pick the right platform.
Factors to Consider Before Choosing a Platform
Before investing your money or time, it is crucial to consider these factors. This step will make sure your experience with playing poker online remains as fun and upbeat as you expect.
Payment Details
The payment options are a key way to gauge the site's authenticity. So, go through the payment options thoroughly before you make a deposit.
Many players overlook the rake and fees, and it can result in losing a portion of your winnings. Therefore, check the rake and fees. Then, consider the net cost (the total of rake and fees minus the rewards).
Loyalty Programs and Rewards
Most sites offer VIP programs and rewards to keep their players engaged. You need to carefully analyze the true value of these promotions to know if it is really worth it.
Make sure to opt for a site that offers a straightforward program without many complications to distract you. If the loyalty programs and bonuses are in your favor, you can easily improve your win rates.
Poker Platform Country Restrictions
Specific platforms have a restriction from operating in several countries. Either that or they do not simply operate in your country. Therefore, you should narrow down your choice primarily to the sites that offer you gameplay legally.
Apart from these factors, you should also consider the regulating body of the website, user interface, and the review across third-party platforms. Plus, the poker site should offer the players reliable customer support via live chat, email, and phone service.
Which Poker Site is Right for You?
Once you go through the above-discussed factors, you will be able to create a shortlist. Then, you can try out all the websites and find out which one truly impresses you.
Additionally, try out different poker games on each site. This way, you will know which site is best for the particular game you enjoy more.
Pro tip: Popular sites generally have better bonuses but more pro players. The small sites have unattractive offers, but the players are usually not so great. Besides, if you want to learn how to play poker like a pro, you should start from small sites and, later, play on more established sites.
Frequently Asked Questions
Below are answers to some of the most commonly asked questions when it comes to playing poker online.
How to Play Poker Omaha Online?

In this game, each player gets four cards (the hole cards) to face down. Then, five community cards are dealt into the middle of the table. You are required to use two of your hole cards and three of the five community cards to form your best hand. Typically, you can play it in two different formats: limit and pot limit.

Is Online Poker Actually Rigged?

To answer in short, no, online poker is not rigged. The companies behind the poker game sites follow the guidelines and rules of regulatory bodies. Players have access to the database software and keep track of the inner workings of the sites. Hence, the companies have more to lose than gain from rigging the games.

What is the best form of poker to play?

The best form of poker really depends on the individual player. Nonetheless, if you are a beginner, it is best to start with Texas Holdem. With a few simple steps, you can learn how to play poker Texas Hold 'em for beginners. Once you are familiar with this game, it is easier to understand others.

Are Poker Winnings Taxable?

The answer entirely depends on your location. In Canada, however, if you are not a professional player, poker winnings are not taxable.

Is online poker legal?

This answer also depends entirely on your location. In Canada, it is explicitly legal for players to play poker. However, for commercial operators, it is in a gray area.
Final Verdict
The reputed poker sites are improving every day regarding safety, privacy, entertainment, and user-friendliness. Therefore, even if you are new to all this, there is nothing to worry about.
Even so, it is vital to go through the privacy and payment policies thoroughly before engaging with a site. Furthermore, try out as many sites and games as possible before sticking to one.
Now that you know how to play poker at a casino online, it's time to sharpen your skills and try your luck at the game.