Online Casino Payment Methods and Banking
Find out the best way to get your money into and out of an online casino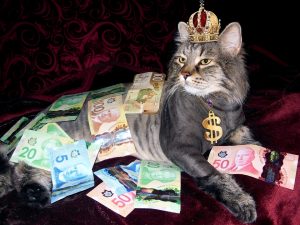 If you, like many other gamblers, are making the transition from brick-and-mortar casinos to online casinos, one of the most important things to consider is finding the best Canadian online casino payment options to deposit and withdraw your funds. Most new players are often left wondering what methods they have available, or if there are any issues with payments that they could encounter.
However, don't fret, as transferring money into your online casino account isn't that different than the online transactions you make on a daily basis.
Although your payment options will vary depending on where you live and the online casino you play at, there are a wide variety of ways for players to transfer their money safely, efficiently and without much hassle.
Canadian players can easily deposit and withdraw money to and from their online casino accounts by using a prepaid debit card, credit card or bank wire transfer. Another great way is to bank with e-wallets like Instadebit, which have specifically been designed for Canadian use. To help you out, Top Online Casinos highlights the different types of online casino payment methods available.
Top Canadian Payment Methods using CAD
Payment Methods Rated
Interac Online – As Canadians, pretty much all of us have used Interac. Extremely easy to use and the only fees are the ones you negotiate with your bank depending on your account. Now available at many online casinos and growing rapidly. We are adding new casinos every week to the list – 5/5
Instadebit – The top option for Canadians, this e-wallet allows the quickest transfer time for both deposits and withdrawals and is accepted in most of our recommended casinos. The casino setup is very easy and highly secure – 4.5/5
IDebit – iDebit is slowly becoming accepted at more casinos than Instadebit. Reason is that it is available at nearly all Canadian banks and is also available in other countries so it is a broader option for most international online casinos. Fees are nearly identical to instadebit where the only fees you pay are when you cash out to your bank account. There are no fees if you do everything from your iDebit e-wallet – 4.5/5
ECheck – eCheck is very easy to setup, with only a slight delay the first time you set up an account at a casino. Once set up, deposits and withdrawals are done with expediency – 4.5/5
Paysafecard – Paysafecard is great for those that do not have bank accounts they want to use for gambling purposes. The cards allow completely anonymous banking with the casinos. It is a great way to get your money in but is not used for withdrawals – 4/5
Bitcoin – A growing number of legit casinos are offering Bitcoin as a paymnet method. Be sure not to gamble at Bitcoin exclusive casinos as there are none that we have found yet that meet the standards we are used to here at TopOnlineCasinos – 4/5
PayPal – Nearly everyone has a PayPal account and this method is extremely good. The only thing holding it back is that it is not accepted at the majority of online casinos. However, there are some great casinos that do take it as a payment method and even offer bonuses specific to PayPal deposits. Problem is, no casinos currently offer PayPal to Canadian residents – 4/5
Credit Cards – Credit cards are definitely one of the easiest ways of topping up your casino account. The downsides are they can be costly if you do not pay them off and some banks have restricted online gambling with their credit cards in the past – 4/5
Bank Wire – The old school bank transfer gets the job done but can take a long time for the funds to show up in your account. There are also usually hefty fees associated with this method – 3.5/5
Credit & Debit Cards
The best credit card casinos will allow you to use your card even in Canada which has historically blocked them. The top companies have found ways around this by using payment providers and by encouraging non-even deposit amounts. Credit cards are one of the most popular ways to bank online, and using them is quite simple and hassle-free. All you have to do is enter your card information and your online casino account will securely be credited just like any other online purchase. However, if you don't have a credit card, you can use prepaid debit cards to deposit and withdraw funds to and from your online casino account.
Debit cards are one of the most common payment methods, and widely accepted at many online casinos. They are secure and speedy, and also come with additional benefits like bonuses to give your bankroll a much needed boost. While there are a number of credit and debit cards that you can use, the following are among the best options available to you:
VISA – VISA is a great option for Canadian players as it accepted by almost any online casino and allows you to deposit and withdraw funds with ease. Some also offer special bonuses for using VISA to fund your online casino account.
Mastercard – MasterCard is also accepted at the majority of online casinos you will come across on the web. It's a fine option for making deposits, however, doesn't allow withdrawals to be made from online casinos.
E-Wallets
Through the use of e-wallets, players can deposit and withdraw their funds without providing the online casino with their bank or credit card information. real Money can easily be transferred into your e-wallet using wire transfers, bank accounts or credit cards. Most players feel e-wallets are a more secure option as they get to keep sensitive bank information and card numbers private. Some popular e-wallets include:
Instadebit – Specifically designed for Canadian use, Instadebit is a secure and seamless online casino payment option. Unlike other e-wallets, there are no fees involved in depositing and withdrawing money with Instadebit, making it one of the most preferred payment options for Canadian players.
iDebit – Available at all major online banks, iDebit is fast and reliable. Fees are only for cashing out to your bank account and if you keep everything in your wallet or buy goods from your wallet, there are no costs.
Interac Online – Available to nearly all Canadians that have a bank account, Interac Online (not to be confused with Interac eTransfers) is a great and easy way to bank with online casinos. Check out the link to see which top casinos accept Interac Online.
MuchBetter – MuchBetter casinos offer a brilliant deposit experience. Simply trigger the deposit from your casino screen and open the app and send teh funds with the click of a button. You money is available instantly, truly much better.
PayPal – A globally renowned e-wallet, PayPal is highly trusted by Canadian players and accepted as a payment option in many online casinos. PayPal takes steps to make payment processing safe and secure, which is why it's also a popular option outside the online casino industry. Unfortunately, no casinos currently allow Canadians to use PayPal.
eCheck – Casino deposits with eCheck online wallet is one of the safest forms for online deposits for Canadian players, as they are easy-to-track and maintain just like normal paper checks.
ecoPayz – A fast and relatively easy way to bank with online casinos, ecoPayz offers Canadians a solid choice of payments.  Security is excellent but the fees do start to approach that of the credit cards.
Prepaid Cards
You can purchase prepaid credit cards such as Prepaid Visa in gas stations and stores, and use them to deposit money to your online casino account. This method is only valid for deposits since you cannot withdraw money back to the prepaid card. The advantages to this type of method is that it is completely anonymous and you can keep a littl emore control over how much you are gambling with. Since the added physical effort to go out and get a card is more mentally trackable than transferring money online and you can choose exactly how much you want to gamble with at any given time.
Cryptocurrency and Bitcoin
The latest and greatest payment method has to be bitcoin. With the virtual currency's meteoric rise came the explosion of online bitcoin casinos. Most of these casinos exclusively deal with bitcoin and other cryptocurrencies. Unfortunately, a great deal of them are scams or are of a dubious nature without proper licensing. The bitcoin casinos we recommend also have CAD banking and are fully licensed casinos from reputable jurisdictions so be sure to do your homework before jumping on board the bitcoin wave.
Bank Wire Transfer
A bank wire transfer is another great option and is accepted at many online casinos. Although it does involve a little more leg work on your part, players have to provide minimal account information to transfer money into their online casino account. Wire transfers, though, usually take anywhere between 2-5 business days, and often have fees associated with them. So, if you are considering a bank wire transfer, you should contact the bank to acquire more information first.
How to Deposit At an Online Casino
Funding an online casino account is straight-forward. The process; though, simple may differ depending on the casino you have an account with because each establishment has its policies regarding depositing. That said, we will sum up the entire process in a few simple steps that you can finish in a few minutes.
First, log into your account and head over to the cashier's section in the casino. This will unveil the payment solutions the casino avails. Keenly go through this list to choose the payment method you prefer. If you are not too sure of the one to select, go for the most popular option because they are usually the most convenient and reliable.
After settling on a payment method, you may be asked to fill out some personal and financial details. Worth noting is that any financial details the casino require typically depend on the payment solution you choose to use.
The final step is to enter the amount of money you want to deposit in the relevant field and wait for the money to reflect in your account.
Speaking of different payment methods, check out the list of options most casinos have.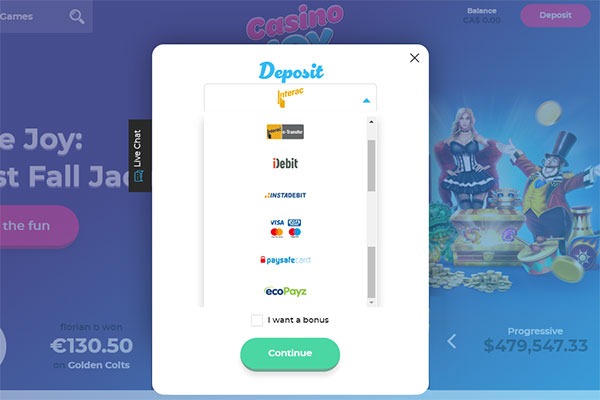 Withdrawing Your Winnings from a Casino
Withdrawing your real money casino winnings offline is a simple process. However, the steps and time of withdrawal may vary depending on the casino you play at, and the payment method you use. Most online casinos prefer returning your money via the same method, and hence you may be required to provide your e-wallet, credit card or bank information.
Regardless of what payment method you use, withdrawals take a standard 24-hour waiting time at all online casinos. If it takes longer than that, you may have to wait an additional day or two, sometimes even a week! For this reason, it's important for players to go through the online casino's baking page to learn about its processing and waiting times.
Security is a major concern not only for you, but also online casinos! Therefore, to avoid any chance of fraudulent activities, you may be required by the online casino to provide some documentation to verify that you are the same person operating the account. Once done, your payments are finally released and ready for withdrawal.
Final Word
As you can see, the best online casino for Canadians also offer a bunch of CAD specific payment methods, with each having their own set of pros and cons to offer. Whether using VISA or Instadebit, by having a proper understanding of each of the aforementioned methods, you can finally determine which banking option would prove a secure, safe and easy means to transfer your funds.