Mega Moolah Review, How to Play and Winners
World's Most Famous Jackpot Game: Your Chance to Win a Million
You may have played plenty of slot machines in the past, but if you have not experienced or tried the Mega Moolah, you are missing the ultimate progressive slot fun and excitement. Slot fans can get immersed in the adventure of playing this exciting, high jackpot, African Safari-themed, action-packed slot that has grown into popularity as "The Millionaire Maker".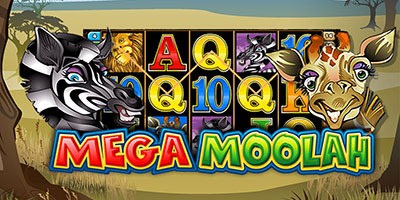 Review Contents:
Note: You can not play Mega Moolah for free due to the progressive jackpot only allowing real money players.
Mega Moolah Free Spins and Bonus Offers
Rank
Casino
Bonus
Visit
Info
Review
1

$1600

+ 120 Free Spins

Play Now

120 free chances on Mega Moolah with a $20 deposit ($30 bonus) The top online casino in Canada

Jackpot City Canada

2

$1200

+ 50 Free Spins

Play Now

New! Mega Moolah Absolootly Mad with 50 Free Spins Excellent banking options in CAD

Royal Vegas Canada

3

80 No Wager

Play Now

Deposit $10 Get 80 wager Free Spins No Wagering, immediate Cash out

PlayOJO

4

$1000

Play Now

Spin Palace is now Spin Casino! Modern table games and video slots

Spin Casino

5

$750

Play Now

Fair, Safe, Easy and Fun Casino Toll free 24/7 phone support

Ruby Fortune

6

$1200

+ 260 Free Spins

Play Now

Top Casino pour les canadines Machines à sous et tours gratuits

Captain Spins

7

$1100

+ 375 Free Spins

Play Now

World-Class Gaming Experience Daily Promotions + 2700 games

CasiGO Casino

8

$1000

+ 120 Free Spins

Play Now

Super Fast Casino Withdrawals Fantastic easy-to-use platform

TonyBet Casino

9

$1500

+ 100 Free Spins

Play Now

A brand new Casino star is born! 20 Free Spins on Registration

Spin Away

10

$2000

+ 200 Free Spins

Play Now

Wildz is funky, cool and real FUN Tons of Canadian Payment Options

Wildz
Launched by Microgaming in 2009, the game offers an impressive four-tiered Progressive jackpot, exceptional graphics, and seamless game play. This is one of the main reasons why Mega Moolah is so famous around the world. The 25 pay-line, 5-reel online slot machine really knows how to attract the crowds by offering a collection of impressive bonuses and prizes and it just so happens to have one of the biggest jackpot wheels on the internet. Mega Moolah jackpot resets to a minimum of 1 million Canadian dollars after it is hit so no matter when you win, you will be a millionaire. If the jackpot doesn't get hit for long enough, you may just have the chance to beat the current biggest jackpot ever won at 18.9 million euros. The marvelous multipliers, wonderful free spins, sensational scatters, generous wild symbols, and colorful animals all ensure your experience is high on rewards!
How to Play Mega Moolah
Basic Rules
When you play Mega Moolah, you can select up to 25 paylines while most casinos offer a fixed 25 payline version.
The game supports up to 5 coins betting per payline with 125 coins being the maximum bet.
The bet size ranges from $0.01 to $0.05 meaning the total bet ranges from a minimum of $0.01 to a maximum of $6.25.
The total bet you place is the number of coins (1 to 5) you are betting multiplied by the number of paylines (1-25) multiplied by the bet dollar size ($0.01 to $0.05).
In order for you to win, the same symbols need to be appearing next to each other on a payline, with the starting symbol of the series displayed on the first and leftmost slot reel.
You are paid per payline for regular wins. If you have more than one combination, you are paid the highest value of all paylines.
Wild and Scatter symbols are also added to increase your chances of winning.
The Wild symbol, the Lion, replaces any symbol to complete a series but will not replace a Scatter symbol. It also doubles the win amount.
The Scatter symbol, the Monkey, will complete a win regardless of where the scatter is located. Three Scatter symbols trigger the Free Spins round.
The Bonus Round that includes the million dollar Progressive Jackpot is awarded at random with higher bets having a higher chance of winning.
Wild Multiplier Symbol

The Wild Multiplier uses a "Lion" symbol as in the king of the jungle. This symbol substitutes for other symbols drawn randomly, hence completing combinations that may allow you to win on any given payline. It also doubles the payout of any combination it completes, but it does not substitute for the scatter symbol. The lion or Wild Multiplier symbol also has its own winning combinations.
For instance, if you get 5, 4, 3, or 2 symbols that are appearing on an enabled payline, you may win 15000, 1500, 125, or 15 coins respectively. Combinations that are made entirely of the Wild Multiplier or "Lion" symbols are not multiplied.
Scatter Symbol

The Scatter uses a "Monkey Symbol" in the Mega Moolah Progressive Slot game. This symbol doesn't necessarily have to appear next to each other on a payline for payouts and can be scattered anywhere on the five reels to complete winning combinations. This symbol is not scattered by the Wild Multiplier or "Lion" and wins are displayed as a multiplier value on the pay table. Landing three or more Scatter symbols triggers the Free Spins bonus round.
Other Regular Symbols
| | | | | | | | | | |
| --- | --- | --- | --- | --- | --- | --- | --- | --- | --- |
| | Ace | | King | | Queen | | Jack | | Ten |
| | Elephant | | Bufallo | | Giraffe | | Zebra | | Kudu |
Free Spin Session

The Free Spins Session of the Mega Moolah game gives you 15 free spins and is automatically activated when there are more than 3 scatters displayed on the five reels. The best thing about this free spin session is that all your wins are tripled.
Subsequently, if you win $100, the amount will be tripled – meaning you get $300. Free spins can be re-triggered and scatter wins are added to payline wins in this round. The Progressive Jackpot bonus in this game cannot be activated. This means, you cannot win the total jackpot. You only win the Free Spin Prize amount, which will be added to your total winnings when you return to the regular mode.
Autoplay feature
The Autoplay feature offered by Mega Moolah enables players to take rest, while the machine automatically performs a certain number of spins. However, before the Autoplay feature is enabled, players will be required to select the coins the want to play with and the number of paylines they want to bet on. This feature also enables you to select the number of spins for automatic play, hence reducing the time delay between various stop settings and each spin.
Promotions
Now that you know how to play, give it a shot for real money with this excellent offer from Jackpot City. $20 gets you 120 additional free spins on Mega Moolah and you still have a massive Welcome Bonus you can tap in to.
Screenshots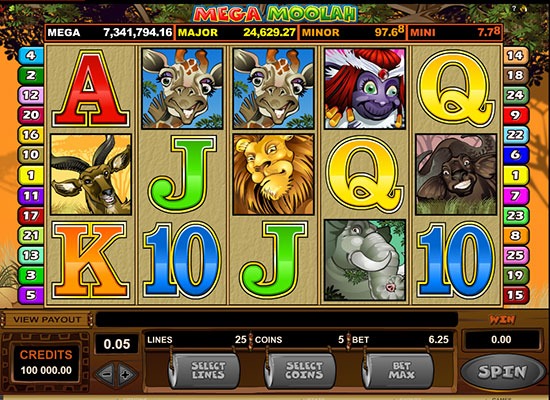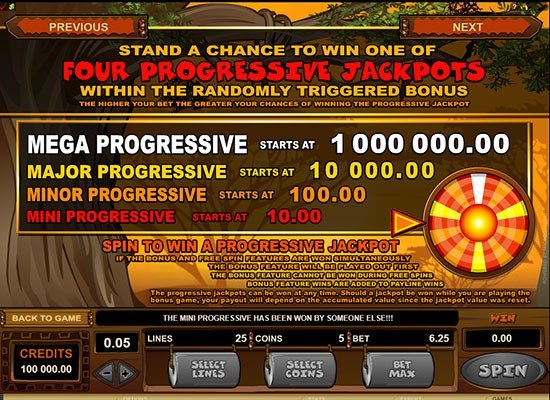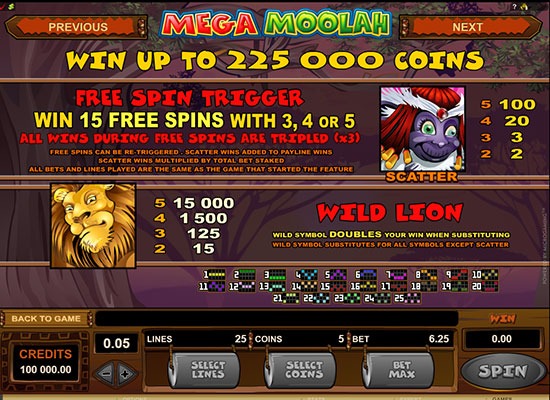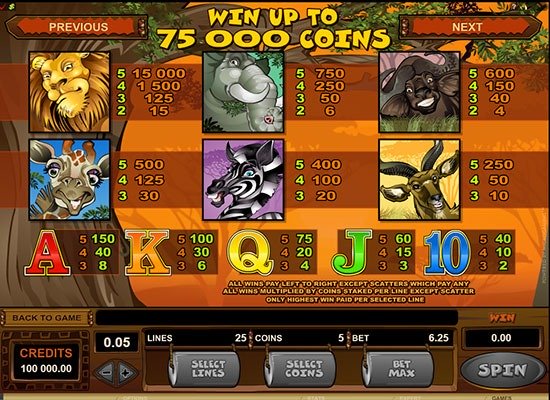 Mega Moolah Winning Combinations and Game Payouts
To get a winning combination on Mega Moolah, depending on the symbol type, you will need to get at least 2 or 3 symbols grouped together on one of the 25 paylines, where the first symbol must be on Reel 1. To get the actual amount paid out you will need to look at the table below and multiply the coins won by the amount bet, which ranges from $0.01 to $0.05. The free spins bonus round triples your win value. The maximum coins that can be won on Mega Moolah is 225,000. To get this amount you would need to land 5 Wild Lion symbols on any payline during the Free Spins bonus round and bet the full 5 coins. The maximum dollar amount you can win is thus $11,250 (5 coins bet X 15000 win X 3 times free spins bonus= 225,000 coins won X $0.05 bet)
Mega Moolah Winning Combinations
Symbol
2 Symbols
3 Symbols
4 Symbols
5 Symbols
Maximum Win
Wild Lion
15
125
1500
15000
225000
Elephant
6
50
250
750
11250
Water Buffalo
4
40
150
600
9000
Giraffe
30
125
500
7500
Zebra
20
100
400
6000
Antelope
10
50
250
3750
Ace
8
40
150
2250
King
6
30
100
1500
Queen
4
20
75
1125
Jack
3
15
60
900
Ten
2
10
40
600
Scatter Monkey
2
3
20
100
1500
Mega Moolah Odds
Mega Moolah has a listed Return to Player (RTP) of 88.12% plus an 8.80% contribution to the progressive jackpots making a total 96.92%. This means that normal payout will be quite low for a slot game but the overall payouts, including the progressive jackpots, is a fairly average to above average 97%. The difficulty to calculate odds lies in the amount given to the progressive jackpot. If a given combination of symbols would trigger the bonus round we could calculate the odds, but that is not the case. Since the bonus round to spin the jackpot wheel is given at random, with a higher probability given to higher bets, there will be a large variability in payouts.
The actual odds of winning the Mega progressive jackpot is also unknown due to this random nature. When spinning the jackpot wheel, the odds are not proportional to the sections of the wheel. There are 20 sections of the wheel and the Mega Jackpot is not hit 1/20th of the time. The randomness definitely adds some excitement to this game. When you do get sent to the bonus round it is quite exhilarating giving that jackpot wheel a spin knowing that you are possibly one spot away from becoming a millionaire.
Graphics and Sounds
One of the best things about Mega Moolah is its amazing, fun, and creative graphics and sounds that utilize a light-hearted concept. Since the game is set in Africa and mimics the style of a Jungle, the color scheme is mostly dominated by earthy colors with animal symbols that are witty and fun. These animal symbols include antelopes, giraffes, elephants, monkeys, and even lions.
In overall theme and tone, one can say the Mega Moolah is similar to the Major Millions (another progressive slot created by the renowned software provider Microgaming). Graphics are of high quality and the sounds really provide an immersive experience into the slot machine, which features sounds of chanting and tribal drumming along with background music of the jungle and sound of animals. In case of jackpots and scatter wins, an upbeat African tribe-like music is usually noticed and other winning spins are accompanied by the shaking of a rain stick sound.
Progressive Jackpot
Mega Moolah Jackpot Reel
There is actually no specific rule, method, or strategy you can use for winning the high payout jackpots in the Mega Moolah, as everything is awarded at random when playing the bonus game. The only advantage you can gain is to bet more as larger bets have a larger chance of triggering the bonus game. During the bonus game a player spins the wheel and gains the ability of winning either the Mega, Major, Minor, or Mini Jackpot (four tiers of progressive wins). After they are won they each reset to a minimum amount. The jackpots are paid out in the currency you are playing.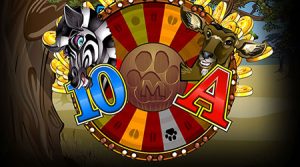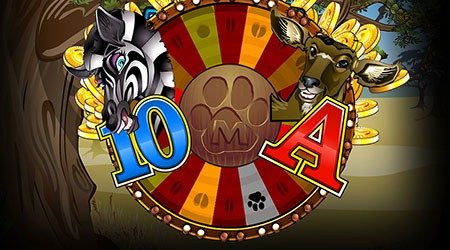 Progressive Jackpot Tiers and Minimum Payouts
Mega Progressive — Starts at $1,000,000
Major Progressive — Starts at $10,000
Minor Progressive — Starts at $100
Mini Progressive — Starts at $10
Since the game is a progressive slot jackpot, the potential winnings increase as more people play and can add up to a million dollars or even more. If won, the entire jackpot is paid out in a lump sum and not in instalments.
Therefore, it is not hard to determine that Jackpots are won regularly. The four tiers of progressive jackpots include Mini of $10, Minor of $100, Major of $10,000, and Mega of $1,000,000. This feature of the game is played on a separate screen. A large wheel typically appears that is divided into 20 segments: 10x mini jackpots, 6x Minor Jackpots, 3x Major Jackpots, and 1x Mega Jackpots. Although winning of the jackpot is random, you can increase your chances of winning by betting higher. However, it is important to keep in mind that the game is incredibly volatile.
Mega Moolah Largest Jackpot Winners
The jackpot is normally quoted in Euros, as that is the default currency, but it is actually won in the currency being played. So if you are playing from Canada with CAD, you bet in dollars and are paid out in dollars. The prize size thus varies depending on where it is won. For the following list we have converted all winnings to Euros so that the amount could be easily compared.
Mega Moolah Jackpot Biggest Winners
Rank
Winner
Nationality
Jackpot Amount
Casino
Date Won
1
M.D.¹
Unknown
€18,915,872.81
Grand Mondial
Sep 2018
2
Jon Heywood²
UK
€17.88 Million
Betway Casino
Oct 2015
3
Player
Sweden
€14.24 Million
Lucky Casino
Aug 2020
4
E.O.³
Canada
€13.34 Million
Zodiac Casino
Jan 2019
5
L.V.
US Dollar Win
€11.55 Million
Luxury Casino
Mar 2019
6
Player
Canada
€10.74 Million
Jackpot City
Apr 2020
7
Player
Norway
€8.01 Million
Tipico
Apr 2017
8
D.P.
Europe
€7.97 Million
Zodiac Casino
Aug 2016
9
Marcus Goodwin
Canada
€7.79 Million
Yako Casino
Nov 2016
10
Player
Unknown
€7.74 Million
Unibet
Sep 2017
11
Player
New Zealand
€7.70 Million
River Belle
May 2020
12
Player
Unknown
€6.91 Million
Spin Palace
Apr 2016
13
C.F.
Canada
€6.68 Million
Zodiac
Mar 2017
14
Georgios M.
Greece
€6.37 Million
River Belle
May 2009
15
Rawiri Pou
New Zealand
€6.36 Million
Casinoland
Jun 2016
16
Unknown
UK
€6.29 Million
Unknown
May 2019
17
Nicolas Chassé
Canada
€6.08 Million
Captain Cooks
Jan 2017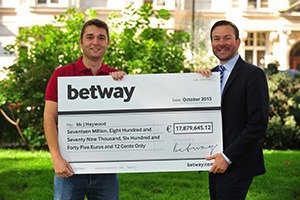 ¹ Largest Ever Progressive Jackpot Win! Also, Largest Ever Mobile Win.
² The previous record was 17.9 Million euros and held the Guinness World Record:
³ This win is a record jackpot size of 20,059,287.27 which was won in Canadian dollars and reported here in Euros making it the 3rd largest win by currency value.
*As of Sep 28, 2018 we now have a new Largest Ever Progressive Jackpot win on Mega Moolah. An unknown player from Grand Mondial hit the big one to the tune of 18.9 million Euros!

More news has been published about the new World Record online progress jackpot win. It was won with a $0.75 bet after only 50 spins at Grand Mondial Casino, which is part of the Casino Rewards group of casinos. Most of their casinos specialize in Mega Moolah Welcome bonus offers for Canadian players. The winner has chosen to remain anonymous but Microgaming did tell us that they won the big jackpot while playing on their Android phone.
The previous record-breaking Mega Moolah jackpot of €17.9 million was won by Jonathon Heywood (a British soldier from Cheshire, UK) on the 6th of October, 2015. Note, these records are for online jackpots. Land based casino jackpots can be even bigger. Another player from New Zealand, Rawiri Pou won over NZ$10 million in 2016 on the 17th of June while playing at Casinoland, changing his life completely. Canadians have won the big prize a few times. Most notably, Marcus Goodwin won 11.6 million CAD at Yako Casino in Nov 2016.
Mega Moolah Recent Jackpot Winners
Mega Moolah Jackpot Recent Winners
Winner
Nationality
Jackpot Amount
Casino
Date Won
Unknown
NZ
€7.70 Million
River Belle
08 May 2020
Unknown
Canada
€10.74 Million
Jackpot City Canada
05 Apr 2020
Unknown
NZ
€2.77 Million
Unknown
30 Dec 2019
Unknown
UK
€3.29 Million
Genesis Casino
08 Nov 2019
H.T.
EU
€3.56 Million
Grand Mondial
16 Oct 2019
D.H.
Canada
€3.03 Million
Grand Mondial
05 Sep 2019
S.G.
Canada
€3.24 Million
Yukon Gold
05 Sep 2019
Unknown
Canada
€4.02 Million
Jackpot City Canada
10 Aug 2019
Unknown
UK
€3.38 Million
Unknown
17 Jun 2019
Unknown
UK
€5.67 Million
Unknown
24 May 2019
Unknown
Canada
€5.55 Million
Unknown
04 May 2019
R.M.
Canada
€2.20 Million
Captain Cooks
06 Mar 2019
L.V.
US Dollar Win
€11.55 Million
Luxury Casino
05 Mar 2019
E.O.
Canada
€13.34 Million
Zodiac
30 Jan 2019
M.D.
TBD
€18.9 Million
Grand Mondial
29 Sep 2018
Player
NZ¹
€4.93 Million
Jackpot City
24 Jun 2018
S.K.
Unknown
€4.60 Million
Grand Mondial
19 Apr 2018
F.D.
Germany
€4.37Million
Captain Cook's
8 Mar 2018
Player
UK
€4.77Million
Royal Vegas
27 Feb 2018
D.S.
Unknown
€2.42 Million
Zodiac
14 Jan 2018
M.G.
Unknown
€5.02 Million
Grand Mondial
18 Dec 2017
K.T.
Canada
€0.94 Million²
Grand Mondial
15 Nov 2017
¹ This Mega Moolah Jackpot win was in 8.33 Million of unknown currency. Since the jackpot was reset to 4.03 Million we can deduce that the win was in NZD. Update: Microgaming have updated that the win was from Jackpot City Casino.
² Mega Moolah minimum jackpot win is $1,000,000 in the currency being played. The win was $1.4 million Canadian dollars and reported here in Euros.
Special Features
Mega Moolah can also be played on mobile. The game is supported on a variety of platforms including iOS, Blackberry OS, Android, and Windows through Microgaming's Quickfire platform. This means, you do not need to download the casino software and can enjoy gaming on your smartphone or tablet be it an iPhone, iPad, Blackberry, Android, etc. In addition to mobile support, Mega Moolah features 15x free spin features, a scatter symbol which triggers free spins, and a lion symbol that acts like a wild multiplier to trigger winnings on any spin.
The top prize never goes below $1 million and some lucky players have even managed to win over 10$ million by winning the full payout. This just goes to prove there is no limit as to how much players can win when playing this lucrative Progressive Jackpot. The rewards keep climbing until and unless somebody wins it. Therefore, if you want to win a huge jackpot and enjoy a game of betting, then playing Mega Moolah is definitely a good option.
Mega Moolah Game Variations
Mega Moolah is a series of interconnected slot games with a few variations that all add to the progressive jackpot. A small fraction of every bet made, from every online casino that carries the games, goes towards building the Bonus Round jackpots. The intent was to give players more variation on their gaming play but still have a chance to win the massive jackpot and dream of becoming an instant Millionaire. Currently, the only other slot game available to Canadians is Mega Moolah Isis. The other games have either been discontinued or are not available at most online casinos, including any we have visited.
Absolootly Mad Mega Moolah
In light of Mega Moolah's extreme popularity, Triple Edge has added another rendition of the game to the series. Based upon the tale of the Mad Hatter in Alice in Wonderland, players are treated to a new turn of incredible jackpot prizes. Like its predecessors, there are 4 progressive jackpots to look forward to unlocking;
Mini Jackpot
Minor Jackpot
Major Jackpot
Mega Jackpot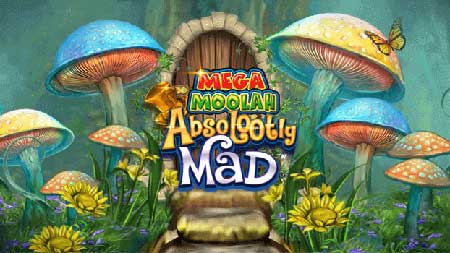 Though there are many similarities between all the Mega Moolah video slots, there are a few features that allows Absolootly Mad Mega Moolah to stand apart from the series. There are 243 ways to win and during this time the game has been developed to unlock bonus features.
The bonus features that have been developed into the design of the game include 4 progressive jackpots, rolling reels, progressive multipliers and free spins. During the base game, wilds are collected to trigger the Jackpot Wheel. Here there are 20 colored segments. Once the wheel begins its spinning cycle the indicator will land on a color. This color represents the jackpot that is paid out.
Just like Mega Moolah, Absolootly Mad doesn't have a set jackpot amount. The jackpot increases upon each deposit made. Despite this, however, the jackpot totals do have a minimum payout beginning at 10.00 and reaching an impressive payout of 1 000 000!
The game has been expertly designed with a colorful and lyrical theme that defines its name. It may boast a number of similarities to Mega Moolah, but the theme itself has categorized this title under fantasy. The graphics lean toward a more classic theme but has been designed with more modern functionality and the bonus features makes for lucrative gameplay.
Absolootly Mad Mega Moolah is a welcome addition for those who enjoy creative and inventive means of landing winning combinations and have good luck at unlocking jackpot prizes!
Mega Moolah Isis

In this day and age, the name Isis is something we associate with some bad guys in the Middle East. Before such craziness, for thousands of years, Isis was solely known as one of the most revered ancient Egyptian Goddesses.
The Universal or Mother Goddess encompassed all things feminine and her many powers included being the Goddess of Magic and Wisdom. The Mega Moolah progressive jackpot that features her name is a phenomenal game and she is also the game's Wild Symbol.
As in the Safari-themed game, the Wild and Multiplier Isis will double your winnings when it replaces a symbol to connect a winning series. The Hawk represents the Scatter Symbol and it is a little more powerful than the Monkey in the standard game. Landing 3 Hawk symbols triggers the Free Spins round but in this case you get 20 Free Spins, 4 Hawks will net 25 Free Spins and 5 Hawks will result in 30 Free Spins, all with a 6 times multiplier. Free Spins can also be re-triggered.
The pay table is also slightly different. For example, the payouts for landing 5, 4, 3, or 2 Isis on a payline is 10,000, 2000, 250 and 10 respectively. The final difference is that Mega Moolah Isis allows you to gamble any win. Each time you win you can either Collect or Gamble your winnings. The Gamble feature allows you to bet on red/black OR on a card suit that will double or quadruple your winnings respectively. You can continue gambling until you lose or collect your winnings at any time.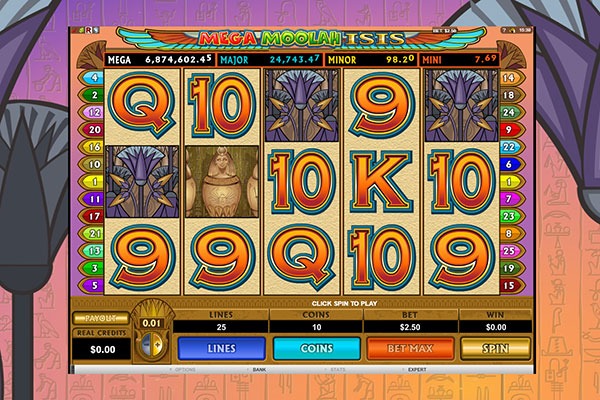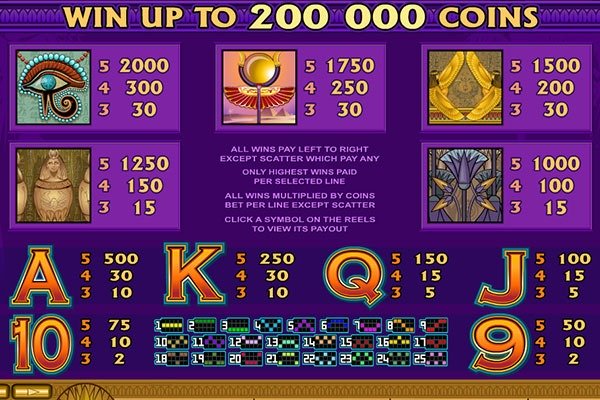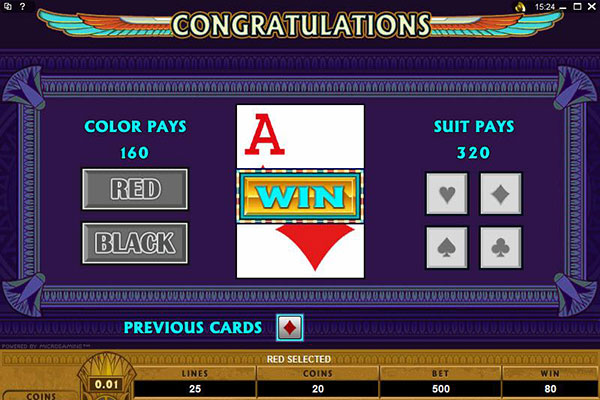 Mega Moolah Summertime

Mega Moolah Summertime is a lighter and more fun classic fruit-themed slot game that is also tied in to the Mega Moolah progressive jackpot. The game has only 9 paylines but allows you to bet up to 90 coins. Bets can also be from $0.01 to $0.20 giving a max bet of $18.00.
The Wild symbol is the Summertime logo and, like the standard Mega Moolah game, they double your win when triggered. The Scatter symbol is the Cool Beach and it too follows the recipe of the original where getting three anywhere will send you to the Free Spin bonus round where you get 15 spins and wins triple in value. All the classic fruit symbols are here like Cherries, Bars and Bells along with some summertime fruit like Melons and bling like Diamonds. Getting 5 Summertime Wild symbols will net you 10,000 times your bet which would triple if hit in the Free Spins round. This game is currently unavailable in Canada as far as we are aware.
Mega Moolah 5 Reel Drive

Mega Moolah 5 Reel Drive is a Road Trip themed version of the classic Mega Moolah progressive slot and is also tied into the jackpot. The game has 15 paylines and you can bet up to 15 coins and bet anywhere from $0.01 to $0.15.
The symbols for the game revolve around a wild road trip with lots of fast food, Fuzzy Dice, Trucker, crazy Drivers and Flaming Tires. Unlike the regular game where the Bonus symbol is the largest payout, the Flaming tires are the biggest payout in this game where 5 together give 10,000 coins. The Wild symbol is the Wild Road Sign and replaces any other symbol other than the scatter but does not double your win like the other games in this series. The Scatter symbol is the Police Car and three of them trigger the Free Spins bonus round as usual. The free spins round consists of 10 Free Spins that pay out five times the normal win putting the largest jackpot you can get (other than the progressive one of course) at 50,000 coins. This game is currently unavailable in Canada as far as we are aware.
Dark Knight (No Longer Available)

The Dark Knight is a Batman-themed slot game that was branded after the movie of the same title. As of 2016, the Dark Knight is no longer connected to Microgaming or the Mega Moolah progressive jackpot.
What's Next: More Slot Games