How to play
Basic Rules
When you play Mega Moolah, you do not have to worry about selective paylines being enabled. In this game, all 25 paylines are permanently enabled.
The game supports up to 5 coins for betting per payline.
The total bet you place is the number of coins you are betting per payline. This means, you must multiple the coins by the number of paylines (25 in total).
In order for you to win, the same symbols need to be appearing next to each other on a payline, along with one specific symbol displayed on the first slot reel.
You are paid per payline for regular wins. If you have more than one combination, you are paid the highest value of all paylines.
Bonus and scatter wins are also added to regular wins, which increase your chances of winning jackpots as well as small bonuses.
For converting your winning amount from coins to credits, multiply the coin size you bet with the number of coins won.
Wild Multiplier Symbol

The Wild Multiplier uses a "Lion" symbol as in the king of the jungle. This symbol substitutes for other symbols drawn randomly, hence completing combinations that may allow you to win certain jackpots. It also doubles the payout of any combination it completes, but it does not substitute for the scatter symbol. The lion or Wild Multiplier symbol also has its own winning combinations.
For instance, if you get 5, 4, 3, or 2 symbols that are appearing on an enabled payline, you may win $15000, $1500, $125, or $15 subsequently. Combinations that are made entirely of the Wild Multiplier or "Lion" symbols are not multiplied.
Scatter Symbol

The Scatter uses a "Monkey Symbol" in the Mega Moolah Progressive Slot game. This symbol doesn't necessarily have to appear next to each other on a payline for payouts and can be scattered anywhere on the five reels to complete winning combinations (considering that you get at least two or more Monkey Symbols). This symbol is not scattered by the Wild Multiplier or "Lion" and wins are displayed as a multiplier value on the pay table.
Other Regular Symbols
| | | | | | | | | | |
| --- | --- | --- | --- | --- | --- | --- | --- | --- | --- |
| | Ace | | King | | Queen | | Jack | | Ten |
| | Elephant | | Bufallo | | Giraffe | | Zebra | | Kudu |
Free Spin Session

The Free Spin Session of the Mega Moolah game is automatically activated when there are more than 3 scatters displayed on the five reels. The best thing about this free spin session is that all your wins are tripled. Subsequently, if you win $100, the amount will be tripled – meaning you get $300. The session consists of 15 free spins, but the Progressive Jackpot bonus in this game cannot be activated. This means, you cannot win the total jackpot. You only win the Free Spin Prize amount, which will be added to your total winnings when you return to the regular mode.
Autoplay feature
The Autoplay feature offered by Mega Moolah enables players to take rest, while the machine automatically performs a certain number of spins. However, before the Autoplay feature is enabled, players will be required to select the coins the want to play with and the number of paylines they want to bet on. This feature also enables you to select the number of spins for automatic play, hence reducing the time delay between various stop settings and each spin.
Graphics and Sounds
One of the best things about Mega Moolah is its amazing, fun, and creative graphics and sounds that utilize a light-hearted concept. Since the game is set in Africa and mimics the style of a Jungle, the color scheme is mostly dominated by earthy colors with animal symbols that are witty and fun. These animal symbols include antelopes, giraffes, elephants, monkeys, and even lions.
In overall theme and tone, one can say the Mega Moolah is similar to the Major Millions (another progressive slot created by the renowned software provider Microgaming). Graphics are of high quality and the sounds really provide an immersive experience into the slot machine, which features sounds of chanting and tribal drumming along with background music of the jungle and sound of animals. In case of jackpots and scatter wins, an upbeat African tribe-like music is usually noticed and other winning spins are accompanied by the shaking of a rain stick sound.
Progressive Jackpot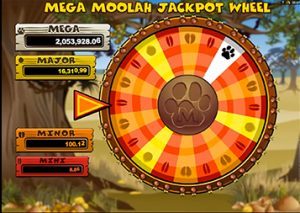 There is actually no specific rule, method, or strategy you can use for winning the high payout jackpots in the Mega Moolah, as everything is awarded at random when playing the bonus game. However, for each winning combination, there are separate bonuses, promotions, and offers. For instance, during the bonus game a player spins the wheel and gains the ability of winning either the Mega, Major, Minor, or Mini Jackpot (for tiers of progressive wins).
Since the game is a progressive slot/jackpot, the potential winnings increase as more people play and can add up to a million dollars or even more. The record-breaking Mega Moolah jackpot of €17.9 million was won by Jonathon Heywood (a British soldier from Cheshire, UK) on the 6th of October, 2015. Another player from New Zealand, Rawiri Pou won over NZ$10 million this year on the 17th of June while playing at Casinoland, changing his life completely. Canadians have won the big prize a few times. Most notably, Marcus Goodwin won 11.6 million CAD at Yako Casino in Nov 2016.
Therefore, it is not hard to determine that Jackpots are won regularly. The four tiers of progressive jackpots include Mini of $10, Minor of $100, Major of $10,000, and Mega of $1,000,000. This feature of the game is played on a separate screen. A large wheel typically appears that is divided into 20 segments: 10x mini jackpots, 6x Minor Jackpots, 3x Major Jackpots, and 1x Mega Jackpots. Although winning of the jackpot is random, you can increase your chances of winning by betting higher. However, it is important to keep in mind that the game is incredibly volatile.
Mega Moolah Jackpot Biggest Winners
Rank
Winner
Nationality
Jackpot Amount
Casino
Date Won
1
Jon Heywood¹
UK
€17.88 Million
Betway
Oct 2015
2
Player²
Norway
€8.01 Million
Tipico
Apr 2017
3
D.P.
Europe
€7.97 Million
Zodiac
Aug 2016
4
Marcus Goodwin
Canada
€7.79 Million³
Yako
Nov 2016
5
Player
Unknown
€7.74 Million
Unibet
Sep 2017
6
Player
Unknown
€6.91 Million
Spin Palace
Apr 2016
7
 C.F.
Canada
€6.68 Million
Zodiac
Mar 2017
8
Georgios M.
Greece
€6.37 Million
River Belle
May 2009
9
Rawiri Pou
New Zealand
€6.36 Million³
Casinoland
Jun 2016
10
Nicolas Chassé
Canada
€6.08 Million
Captain Cooks
Jan 2017
¹ Guinness World Record: Largest Ever Progressive Jackpot Win
² Guinness World Record: Largest Ever Mobile Casino Jackpot Win
³ Converted to Euros from 11.63 Million CAD and 10.1 Million NZD at time of win
Special Features
Mega Moolah can also be played on mobile. The game is supported on a variety of platforms including iOS, Blackberry OS, Android, and Windows. This means, you do not need to download the casino software and can enjoy gaming on your smartphone or tablet be it an iPhone, iPad, Blackberry, Android, etc. In addition to mobile support, Mega Moolah features 15x free spin features, a scatter symbol which triggers free spins, and a lion symbol that acts like a wild multiplier to trigger winnings on any spin.
The top prize never goes below $1 million and some lucky players have even managed to win over 10$ million by winning the full payout. This just goes to prove there is no limit as to how much players can win when playing this lucrative Progressive Jackpot. The rewards keep climbing until and unless somebody wins it. Therefore, if you want to win a huge jackpot and enjoy a game of betting, then playing Mega Moolah is definitely a good option.