Major Millions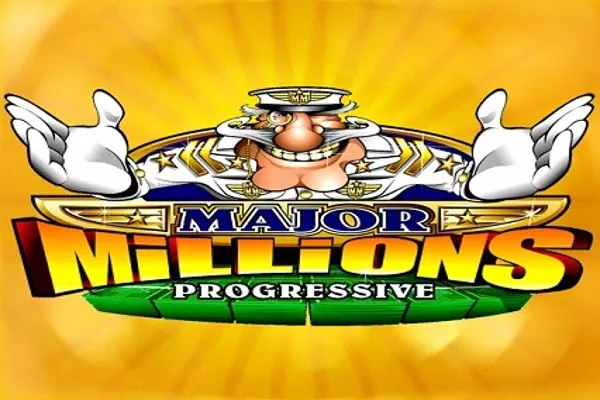 By Microgaming
Slot Game Information:
Microgaming is widely seen by experienced online slots gamers as the number one casino software brand when it comes to record breaking progressive jackpot slots. Microgaming's Mega Moolah is a case in point example, as this machine has been responsible for more overnight millionaires than virtually any other progressive slot on the web.
However, Mega Moolah is not the only millionaire maker in Microgaming's casino game arsenal. Major Millions is another classic Microgaming progressive jackpot alternative that has made more than its fair share of millionaires online.
Major Millions may have evolved from its original 3 reel base game into more modern 5 reel and Multi Spin versions, but most fans of Major Millions will tell you that the original reel version is still their favourite and can be found at every top Canadian online casino.
---
Major Millions Slot Game Versions
The game is available in a 3 reel version as well as a 5 reel and a Major Millions Multi Spin version. All three are connected to the same Major Millions progressive jackpot network, so it boils down to whether you prefer a more classic slots feel or a more modern feel.
3 Reel Major Millions
How to Play
The 3 reel version of Major Millions offers a clean and simple layout that is easy to play and easy to follow. The format features 3 reels with 3 fixed paylines which allow you to bet 1.00 per payline or activate all three for a max bet of 3.00 per spin. Getting three of a kind of any of these symbols across a single payline will net you up to 400x your bet.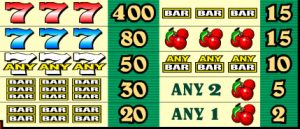 Gameplay Experience: Graphics & Sound
As expected from a classic themed slot, Major Millions 3 reel contains a number of true blue classic symbols including bars, cherries and 7's. The feel is to replicate walking off the street into a classic Vegas Casino and stepping up to the one-armed bandit.
Jackpot
Of course playing a slot like Major Millions is really all about the big progressive jackpot, anything else is really just there to help boost your chances of doing just that. As with all Microgaming progressive jackpot slots, you will need to play on max bet in order to qualify for the main progressive jackpot.
This essentially means activating all three paylines for a total layout of 3.00 on every spin and, if you manage to land three Major Millions Jackpot logos along the third payline, you win the progressive jackpot total.
However, you can still enjoy smaller bonuses by getting three Major Millions Jackpot logos to line up on the second payline for a total payout of 50,000 or three Major Millions Jackpot logos on the first payline for a total payout of 25,000.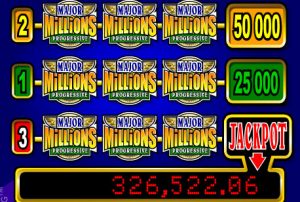 5 Reel Major Millions
How to Play
The 5 reel version has 3 rows and 15 paylines and you will need to have the max bet of 3.00 in play to get a chance at the jackpot. Each payline thus costs 0.20 to bet. To get a payout you need to get at least three of the same symbol on the first three reels. More of the same symbols on each payline gives a higher payout up to five symbols. The symbols are different for this game than the three reel game and focus on a military theme. You also get multiplier and scatter symbols.
Wild Multiplier Symbol

The Major Millions Jackpot logo is also the games Wild symbol and Wild Multiplier which means that it not only substitutes other symbols to make winning easier, it can also double or even quadruple your winnings. Landing 5 Major Millions Jackpot logos on any of the first 14 paylines will result in the biggest payout. Landing all 5 on the 15th payline and you trigger the Jackpot!
Scatter Symbol

Scatter wins are added to the payline and are multiplied by the total amount bet. They can also trigger a win when they land in any location although you will need to have at least three scatter symbols to get a cash payout.
Other Regular Symbols

Gameplay Experience: Graphics & Sound
Major Millions is a military themed slot with a cartoon ­like style to its graphics and symbols. This helps to make the game a bit more lighthearted than the theme would initially suggest. The soundtrack from the game is appropriately marching music from a military band mixed with the sound of the ka-ching of cash registers.
Jackpot
As mentioned with the Wild Multiplier Symbol, the Jackpot is triggered when all 15 paylines are played and 5 Major Millions Jackpot logos come up on the 15th payline. The 15th payline consists of the bottom location of the 1st, 3rd and 5th reels with the middle of the 2nd and 4th reels forming a wide "M" pattern.
What's Next: More Slot Games