Immortal Romance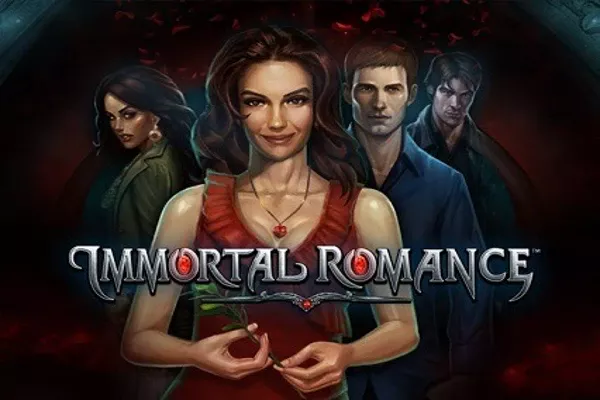 By Microgaming
Slot Game Information:
If you enjoy stories about vampires, witches, and dark secrets of the night, you will simply love the Immortal Romance online slot.
The main characters of this story, Amber, Sarah, Michael, and Troy will guide you down the chilling and exciting journey through Transylvania – The home of Count Dracula.
Created by the one of the biggest players in the online industry, Microgaming, Immortal Romance was first presented during the vampire-craze that took over the world during the early years of the second decade of the 21st century.
Featuring 243 paylines and several bonus features, this is an extremely exciting, fast-paced online slot game intended for those who truly enjoy the action and adrenaline rushes of desirable love with a combination of good looking vampires.
---
How to Play
Immortal Romance slot lets you play up to 243 lines on five reels at all times, which means it belongs to "all paid" group of slots. As long as three or more of the same symbols appear anywhere on the subsequent reels, they will form a line and pay according to the pay table.
The maximum coin size for the Immortal Romance slot is $0.10, which means you can play up to $30 per spin. If this seems a bit low to you, make no mistake, this slot has several ways to pay vary handsomely and if you can afford playing at the highest best, you will not be disappointed with what this real money slots game has to offer.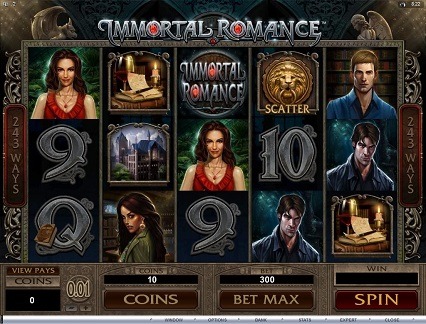 Symbols:
Immortal Romance (Wild) symbol: one line with five of these pays 1,500 coins
Sarah: a line of 5 pays 500 coins
Michael: a line of 5 pays 450 coins
Troy: a line of 5 pays 400 coins
Amber: a line of 5 pays 350 coins
Scatter (a brass door-knocker): three or more scatters pay + trigger free spins round
Transylvanian castle
Pen & letter
Minor symbols (A, K, Q, J, 10, 9)
With 243 paylines, every next spin can be a big one with the Immortal Romance, which is one of the biggest appeals of this particular slot.
Gameplay Experience: Graphics & Sound
In an attempt to really bring the story home, the entire game was done in black, red, and dark green shades of pastel colours. Facial expressions of the main characters have been adjusted to match the story line and to really reel you in after a few minutes of playing.
Adding to this is a relatively silent but very edgy and chilling music, interrupted by special effects triggered by certain combinations. Just as you start to relax, you will be awaken from your slumber by a crisp, shivery sound. Free spins are accompanied by a special theme song, making the bonus game even more enjoyable.
Overall, the game play experience on Immortal Romance definitely meets the expectations, especially if you enjoy this type of scary atmosphere. One good thing to try is playing this slot in the dark.
Jackpot
Although Immortal Romance is not a progressive slot, it can still pay quite handsomely. The biggest amount one can win from a single spin is 364,500 coins, which is $3,645 even if you are playing on the smallest denomination of just $0.01.
To win this big, you would have to hit a table-full of the Immortal Romance symbols, which does not happen all that often but is definitely something worth chasing. If this happened while you were playing on the maximum spin, you'd win the full amount of $364,500 – which many would consider a life-changing amount.
While it may not be a progressive slot, Immortal Romance can definitely be a rather volatile slot. Despite of paying on 243 lines, average wins are not that big compared to a bet size, which means a rather sizable bankroll may be required if you want to play this slot regularly.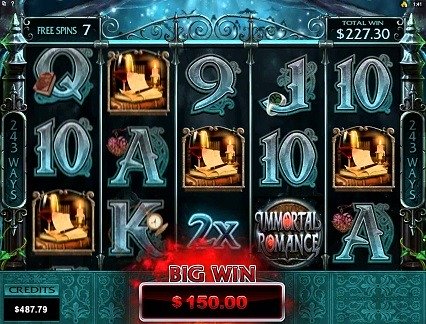 Special features
There are a couple of special features that can be triggered on Immortal Romance, namely Chamber of Spins and the Wild Desire Feature.
The Chamber of Spins is triggered by three or more scatter symbols appearing anywhere on the reels. The Chamber will offer you different options to choose from as you progress through the game:
The first chamber: Amber – 10 free spins, all wins multiplied 5x
The 2nd chamber (after triggering free spins 5 times): Troy – 15 spins with random vampire bat multipliers
The 3rd chamber (after 10 times): Michael – 20 free spins with rolling reels
The 4th chamber (after 15 times): Sarah – 25 free spins with wild vine feature
The Wild Desire feature is triggered randomly, so there is no way to tell when to expect it. When it does trigger, it will turn anywhere from two to five reels into all-Wilds. This feature, although you will not see it that often, can really pay big if you get just a little lucky so keep an eye out for it.
Just head over to any of our Top Online Casinos to play this game. They all have it!
What's Next: More Slot Games