Game Of Thrones Slot Game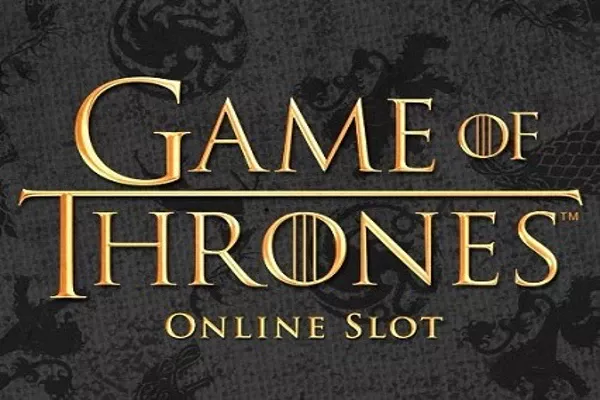 By Microgaming
Slot Game Information:
Based on a hugely popular TV series, Game of Thrones slot brings with it the story and characters which most players will already be familiar with.
Who will sit on the Iron Throne? What great house will take the rule over the land? Will it be Lannisters, Baratheons, Starks, or Targaryens?
If you are a Game of Throne fan, you probably already have your favorite and Microgaming, the company behind this slot, made it so you can stick with them in your quest for big money. With 243 lines, free spins feature to match your taste, and rather amazing gamble feature, this game is certain to provide you with a lot of fun and excitement.
If you are not a Game of Throne fan, you just might become one after you hit a table full of wilds and rake in some serious cash.
---
How to Play
There are, in fact, two versions of this Microgaming slot game: one with 243 paylines and one with 15 lines. The former is much more exciting to play, while the latter is better suited for those who prefer to put in more playing hours with the same bankroll. Other than the price per spin, these games are identical in all other aspects. We will focus on the 243-lines version in this review as it seems to be much more popular on big casinos.
The minimum bet you can play on this 5-reel video slot is $0.30 per spin and the highest you can wager on a single spin is $30. Of course, there are numerous interim levels so regardless of how big or small your bankroll might be there is a bet level for everyone.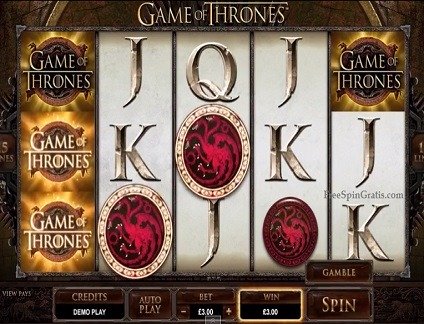 Symbols and paylines are in the spirit of the series, so all fans will be able to guess what they can expect without even looking at the pay table. That said, here are a few highlights:
Game of Thrones symbol (Wild): the highest paying symbol, with a full line paying 500 coins
Iron Throne (Scatter): 2+ scatters appearing anywhere pay, 3+ scatters trigger a free spins feature
House Baratheon Sigil: full line pays 250 coins
House Lannister Sigil: full line pays 200 coins
House Stark Sigil: full line pays 175 coins
House Targaryen Sigil: full line pays 150 coins
Gameplay Experience: Graphics and Sounds
For those who enjoy playing slots and also love GoT, this slot represents a great blend that offers fun and exciting experience. The graphic is not too much but mini video sequences and special effects triggered when a payline forms certainly increase the fun element of the game.
While video effects are nice, true fans will certainly appreciate the music. The show's main theme plays continuously in the background, making you really feel the excitement of the wins to come. Since the show's theme is one of its most praised elements, this is certainly a nice touch by Microgaming.
Jackpot
Although not a progressive jackpot slot, Game of Thrones slot can pay handsomely under the right circumstances. What you are looking for is a table-full of Wild symbols, which is made somewhat easier to get by the fact that Wilds are stacked on all reels.
The maximum you can get in a base game is $121,500, provided you are playing on the maximum spin, but that's not the main score. The biggest jackpot of $605,000 can only be won during the free spins, if you choose to go with the House Baratheon. Free spins rules are explained in the next section.
The GoT slot does pay relatively frequently, which means that your jackpot hunt will not be crazy volatile, but do brace yourself. There will be periods during play when things are not going your way and you will simply have to wait it out until you trigger free spins or find a few good boards to get you back on the track.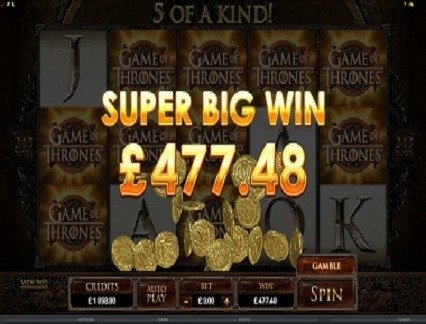 Special features
Special features and bonus games are one of the biggest selling points of the Game of Thrones slot apart from the main theme. These features always make games more fun to play and give you more chances to win big, which is what all slots players are after.
Stacked Wilds feature means exactly what you would guess. Wild symbols come in bunches, so when they do land on a reel, there will usually be more than one. Since there are so many paylines, a few well placed Wilds can really pay off big time.
The gamble feature is one of the coolest we've seen. In terms of mechanics, it works just like with any other slot game, but in this instance you flip a coin to try and double your base win. If the coin lands your way, you get to progress through the storyline and there is a fun, short video from the series accompanying your win.
Free spins are triggered by three or more Iron Throne symbols landing anywhere on the reels. Once this happens, you will have following options to choose from:
House Baratheon: 8 free spins with 5x multiplier and stacked Baratheon sigil
House Lannister: 10 free spins with 4x multiplier and stacked Lannister sigil
House Stark: 14 free spins with 5x multiplier and stacked Stark sigil
House Targaryen: 18 free spins with 2x multiplier and stacked Targaryen sigil
During free spins, Wilds remain stacked as well, so the odds of hitting a few big paylines during the bonus spins round are increased significantly.
What's Next: More Slot Games