Guide and Strategies to Playing Sic Bo Online
The game of 'precious dice'
Sic Bo is one of the most popular casino games in the world, with ancient roots and is hugely popular in Asia, particularly in Macau casinos. Sic Bo means 'precious dice' and this simple game is not only easy to play, it can be a lot of fun too. Experienced players often rate it right up there with baccarat for ease of play and pure entertainment, with some rating it even higher.
Sic Bo is fast becoming one of the most popular casino table games in Canada, particularly in online casinos in Canada and live dealer (online) casinos. One of the biggest draws to playing the game is its relatively simple rules and gameplay, making it the ideal game for beginner casino gamblers. When compared to games such as roulette or even blackjack, Sic Bo is a much easier and more straightforward game to learn to play.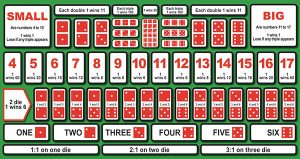 The game presents plenty of interesting betting opportunities which goes a long way in keeping the game interesting for all levels of player. The following guide to playing online Sic Bo will take your through the basic steps in getting your first real online Sic Bo game going, as well as how to adopt a few basic Sic Bo betting options and strategies into your game.
How to Play Sic Bo
Rules of Sic Bo
Before you begin to play any game of online Sic Bo, always be sure to check the betting limits at the Sic Bo table.
Once you are satisfied with the betting limits of the Sic Bo table, the next step is to buy some chips so that you can start to place your Sic Bo bets.
Decide which bets you would like to place your chips on around the Sic Bo table. There are plenty of interesting betting options available in a game of Sic Bo, each with its own payout ratio and house edge. For more advice on this be sure to check our easy Sic Bo strategy guide below.
Once you have placed your bets on the Sic Bo table, the next step is to wait for the dice to be rolled and see what the outcome is.
If you have won, congratulations! Now simply collect your winnings and go back to step 2 to play again.
Online Sic Bo Strategies
Many Sic Bo experts and veterans claim that the key to lasting a long time and being successful in Sic Bo is to be a defensive player. In Sic Bo, there are two basic types of bettors, the attack bettors and the defensive bettors. One of the main reasons why so many Sic Bo experts believe that it is better to play the game from a more defensive betting point of view, is that the game is based predominantly on good luck in the roll of the dice. The idea here is that defensive players play with more patience and can therefore make the long game work to their advantage.
In fact, Sic Bo players that choose to adopt a more defensive style of play will usually be able to enjoy a bigger bankroll for longer. This allows them to stay in the game for longer which many believe is the key to making a profit in online Sic Bo. Generally speaking, the best or lowest house edge percentage found in online Sic Bo is round 2.78%, and the way to get your game in this general area is to play a combination of betting strategies which will include making small and big bets, as well as applying various combination bets to your game.
Small and Big Sic Bo Bets
Making small and big bets is one of the most popular strategies in Sic Bo and most players find that this is the best way to win more often. Understanding small and big bets is quite easy. Small bets basically means that the player predicts that the total on the dice (three dice) will be a smaller number total, between three and ten. On the other hand, big bets are when the player predicts that the dice total will be between 11 and 17. Both of these bets are 1:1 bets, also known as even money bets and, while you may not make much out of each bet, you have more chances of winning, which can count in your favour over a long game.
Combination Sic Bo Bets
In Sic Bo, a combination bet, or dice combinations, is a betting option where players are able to bet on two or more number combinations of what the dice will show in the next round. In its simplest form, betting on two numbers, (betting on 3 and 4 for example) will yield a payout of 5:1 in Macau casinos and 6:1 in UK and elsewhere.
Here are some other interesting dice combination bets:
Single dice bet: Betting that specific numbers 1, 2, 3, 4, 5, or 6 will appear on one, two, or all three dice
Four number combination: Betting that three out of the four numbers will appear in one of the following specific combinations: 6, 5, 4, 3/ 6, 5, 3, 2/ 5, 4, 3, 2/ 4, 3, 2, 1
Three single number combination: Betting that the dice will show a specific combination of three different numbers
Specific double and single number combination: Betting that two of the dice will show a specific double while the third dice shows a specific single number
Sic Bo Variations
Sic Bo is an old casino game goes by many different names. Tai sai, dai siu , big and small or hi-lo are all different forms of the game and the names can often be used interchangeably depending on where in the world you are.
Reasons to love online Sic Bo:
Sic Bo is a fun game that is easy to play
Sic Bo is not as intimidating as other games like blackjack or roulette
One of the great real money casino games for online casinos novices
Can find great Sic Bo games online for free
Some things you may not love:
Some players may find the game to be a bit boring
The pace of the game is not as fast as blackjack for example
More Online Casino Games