Get an Edge on the Dealer with this Online Baccarat Guide
Let's see some Kings and 9's
Baccarat online is one of the oldest casino games in the world and, along with blackjack and roulette, forms the foundation of any casino, online or land-based. Baccarat has been around for about as long as roulette and shares the same origins in Europe. However, unlike roulette, baccarat is a table game that is played with cards. In this way, baccarat is more closely related to the game of blackjack, another casino game originating in Europe.
Baccarat also shares other similarities with blackjack, the game uses a standard deck of casino playing cards and ascribes certain values to different cards in the deck. These cards are worth certain points in the game and, like blackjack, the point of the game is to reach a certain total to win. However, baccarat is somewhat easier to play than blackjack in some ways.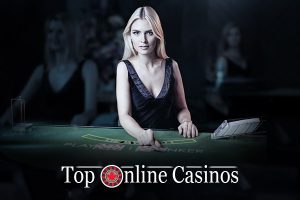 The game is essentially played between two positions, the banker and the player. The dealer (house) draws cards for each position and other players can bet on either the banker to win or the player to win. The game is really that simple and can be a great deal of fun to play in a baccarat casino.
Best Online Baccarat Casino in Canada
Rank
Casino
Bonus
Visit
Info
Review
1

$2000

+ 200 Free Spins

Play Now

Wildz is funky, cool and real FUN Tons of Canadian Payment Options

Wildz

2

$1600

Play Now

Trusted casino with CAD banking Hundreds of Microgaming games

Jackpot City Canada

3

80 No Wager

Play Now

Deposit $10 Get 80 wager Free Spins No Wagering, immediate Cash out

PlayOJO

4

$1500

+ 100 Free Spins

Play Now

A brand new Casino star is born! 20 Free Spins on Registration

Spin Away

5

$1000

+ 120 Free Spins

Play Now

Super Fast Casino Withdrawals Fantastic easy-to-use platform

TonyBet Casino

6

$1200

+ 260 Free Spins

Play Now

Top Casino pour les canadines Machines à sous et tours gratuits

Captain Spins

7

$1500

+ 150 Free Spins

Play Now

Several great promotions to pick from Excellent selection of casino games

National Casino

8

$1000

+ 200 Free Spins

Play Now

Canadian banking including Interac Only 20x bonus wagering required!

LeoVegas

9

$1100

+ 375 Free Spins

Play Now

World-Class Gaming Experience Daily Promotions + 2700 games

CasiGO Casino

10

$1000

Play Now

Spin Palace is now Spin Casino! Modern table games and video slots

Spin Casino
See the Best Online Casinos in Canada
How to Play Baccarat Online
Rules of baccarat: Baccarat explained in 5 easy steps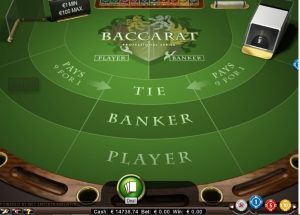 Step 1:
Finding good online baccarat at our recommended online casinos is very easy and there are plenty of online casino software providers supplying them. For our step by step guide, we've chosen NetEnt's excellent Baccarat Pro. As you can no doubt see from the above image, the table is clear and very easy to read. There is a space for placing your bet on Banker as well as a space for betting on the Player position or a Tie bet. The Tie bet pays the highest odds in the game but is also the most risky bet to make in baccarat.
Step 2:
Once you have decided on which position you would like to bet on, choose a chip size from the bottom right of the screen that you are comfortable with. For our game, we have chosen to go with the table minimum which is a good idea if you are new to the game of baccarat. We have placed our bet on the Banker position to win. The next step is to click on the Deal button, this tells the game to deal the cards to both positions.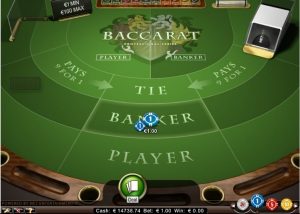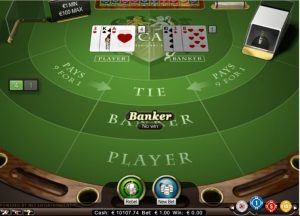 Step 3:
As you can see in our above image, our bet lost as the Player position won the hand. In this case you will have two basic options, you can either click on the 'Rebet' button, which will keep your chip in place at the previous betting position, or click on 'New Deal', for a new hand. If you click on New Deal, you will have to start from the beginning again, deciding on your chip size and betting position.

Step 4:
We've chosen to click on New Bet and have decided to stick with the same chip size as our previous bet. This time however, we have decided to bet on the Player position to see if our luck may change with the new betting position. Again, once you are happy with you bet, click on the Deal button to let the dealer deal the cards to both positions.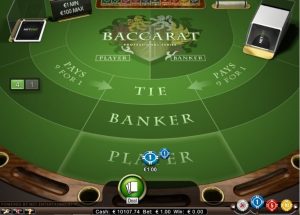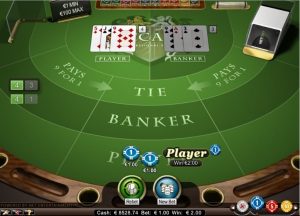 Step 5:
Our luck has come in and we have won our hand with betting on the Player position! Our winnings is an even money bet, meaning that we bet 1 chip and won a chip for a total of two chips. Again you can decide to keep your chips in play or bank them, if you decide to keep playing you can simply click on New Bet again.
Online Baccarat Basics
As we touched upon earlier, the game of baccarat shares a few similarities to the game of blackjack, making it the ideal crossover game for blackjack players. However, if you have never played either game before, you will find that baccarat is the easier of the two games to learn to play, making it ideal for beginners too.

Just like in blackjack, standard playing cards are used in baccarat and are assigned various values in order to determine a winner and a loser in each round. While blackjack has quite a few betting options in every round, baccarat essentially only has three, betting on the Banker position to win, betting on the Player position to win, or betting on a Tie result.
The house (casino) dealer will deal cards to both the Banker and the Player position and, as a player, you decide who you think will win between the two positions and you place your bets accordingly. That is about all there really is to a round of baccarat and, as you can no doubt see, it is a very easy and straight forward game to play.
General Terms and Card Values
The ultimate aim in baccarat is to score as closely as possible to a total of eight or nine to win. Again, just like in blackjack, exceeding the target total is an instant loss. In order to determine the winner in a round of baccarat, the cards have to be counted in a very specific way. The way that this is done is to give the cards specific values which can be seen below:
Card values in Baccarat:
All ace cards are valued at one
All 10's, J, Q and K (face cards) are valued at 0
Numbered cards are at face value
A natural hand is a two card hand that totals either 8 or 9
A 2 card total that exceeds 10 will have the 10 disregarded
How to Win at Baccarat
Generally speaking, the aim of any Baccarat game is to get a hand as close to a total of nine without exceeding this total. In this way Baccarat is similar to Blackjack and also shares a similar method of assigning value to different cards.
Card values in Baccarat are:
All tens, jacks, queens and kings (face cards) are valued at zero
All ace cards are valued at one
Number cards are valued at their face value
A two card total that exceeds ten will have the ten disregarded (eg: 10 + 3 = 3)
A natural hand is a two card hand that totals either 8 or 9
As online baccarat shares some of the same history and gaming similarities to its cousins, roulette and blackjack, you can borrow some of the popular betting strategies that are popular in both of those games. If you want to win at Baccarat, we go over more advanced baccarat strategies but we will list them here:
Paroli baccarat strategy
Fibonacci baccarat strategy
Labouchere baccarat system
More on Baccarat Odds
Baccarat presents a variety of betting odds and house advantages, depending on the type of baccarat bet that has been chosen and placed. In baccarat, there are only three types of bets that can be placed, and each of these comes with its own particular house edge percentage. Take a look at each of the bets below, along with their relative house edge percentage:
Banker bet: House Edge = 1.06%
Player bet: House Edge = 1.24%
Tie bet: House Edge = 14.36%
As you can no doubt see from this comparison, the Banker bet presents the lowest house edge while betting on a Tie presents the highest house edge percentage.
Online Baccarat Strategies
Just like in roulette strategy and blackjack strategy, various popular basic strategies can be applied to the game of baccarat to improve winning chances and overall gaming experience. Take a look at the following popular strategies to see which one sounds like the best baccarat strategy for you at your favourite baccarat casino.
Paroli Baccarat System and Strategy
The Paroli betting strategy is one of the oldest in the world and was originally devised for roulette games in European casinos. However, this basic strategy is often applied to blackjack betting and can just as easily be applied to baccarat too. The Paroli betting system is what is known as a positive progression betting system, which basically means that you increase your bet each time you win a hand. However, you do not increase you bet if you lose a hand, instead you will go back to a single unit (your basic bet that begins the cycle). In the Paroli system, you double your bet when you win and double again if you win your next bet. However, instead of doubling a third time, you revert back to your basic betting unit, your minimum bet. In this way, Paroli is often considered to be one of the least risky betting strategies to use.
Fibonacci Baccarat Strategy
If the Fibonacci Baccarat Strategy sounds slightly familiar, it's probably because you learnt all about the Fibonacci sequence in school. This ancient mathematical system has been successfully applied top both roulette and blackjack betting strategies and is so easy, even an absolute beginner can apply it to baccarat betting within minutes of reading about it.
The Fibonacci number sequence looks like this: 0, 1, 1, 2, 3, 5, 8, 13, 21, 34, etc.
As you can see from the above number sequence, the first two numbers are added together to make the next number (1+1=2, 2+3=5 3tc).
Applying this to a baccarat betting sequence, we would get this:
Wager 1: 1 unit – win
Wager 2: 1 unit – win
Wager 3: 2 units – win
Wager 4: 3 units – win
Wager 5: 5 units – win
Labouchere Baccarat System
The Labouchere betting system is another very old betting system that was originally developed for roulette betting. However, many gamblers have seen its value and applied it to baccarat betting. The Labouchere betting system works a little differently to other betting systems in that it is a cancellation system. In other words, you cancel out a predetermined sequence of numbers with each bet. The way it works is, you begin by deciding how much you want to win in your baccarat session.
You then take that figure and work out a series of numbers that add up to that total. You will then determine your bet size in the game by adding the first and the last numbers of the sequence together. If you win, simply cross out those numbers and do the same to the next two numbers in the sequence. Once you've successfully crossed out all of the numbers in your sequence, you should have reached your goal for that session. The downfall of the Labouchere system is that there is a critical moment where the system fails and you could be required to bet your entire amount. Like all progression systems, you can profit from them but eventually you will lose if you do not have enough money to cover the bet required.
Baccarat Variations
Punto Banco
Punto Banco translates literally to Player Bank and is the most common form of baccarat found in the online casino due to the ease of play. The primary difference between Punto Banco and other forms of baccarat is that the better does not have any control over the cards being played. The decision to draw another card is left up entirely to a table (or tableau) that dictates whether the Player or the Banker get an additional card. You simply bet on the Player, Bank or for a Tie. There are slight variations to this game but in a standard 8 deck Punto Banco the house edge is 1.06% for Banker to win, 1.24% for Player to Win and 4.85% if Ties are paid out 9-1. If Ties are paid out at the lower 8-1 the house edge turns into a huge 14.4% advantage. Needless to say you should avoid betting Tie at all costs but otherwise Punto Banco offers some of the best odds at a casino.

Chemin de Fer
Chemin de Fer is a slightly more complex version of baccarat because the players have an option of whether to take another card or not. Players are randomly sat around the table and there are 6 decks, shuffled by each player, with betting and play starting counterclockwise. Each turn one player is selected as the banker and this moves counterclockwise throughout the game.
The banker decides how much is to be wagered and the other players in turn can decide to "go bank" and match the wager. If no one goes bank then each player places their wager in order. If the total wager is more than the bank then the Banker has the option to raise the bet to match. If the Banker does not raise the bet then the extra wagers are removed in reverse order.
If the bank wager is not met then people watching the game can match the bet. The dealer or banker then deals 4 cards face down, two to the Player and two to the Banker. The player who wagered the highest plays for all the other players. If one of the Banker or the Player declares they have an 8 or 9 then the cards are shown and a winner decided. If not, the player can choose a third card then the dealer can choose a third card, both dealt face up.
If the Player wins, the bets are paid out and the next player in turn becomes the banker. If the Banker wins, the Banker gets the money and they decide if they want to relinquish the Bank or continue. If there is a Tie all wagers remain in place. The new Banker will be the first person in order that wants to match the Banker wager otherwise the amount resets and the next player in turn to be the Banker sets a new amount to be wagered. Since the Player that bets highest draws a card for everyone that has bet, there is a standard set to determine whether they draw or not. They will hit if the Player's hand score is 0 to 4 and stand if the Player's hand score is 6 or 7.
Baccarat Banque
In Baccarat Banque the Banker is a more permanent position. The Banker is usually determined by the person willing to wager the most and will sit halfway along the table of ten Players. The five Players on either side of the Banker (and all people standing that will bet if the Player wagers are not enough to meet the Bank) are represented by one Player on either side of the Banker. The Players to either side may "go bank" with only one per side allowed. If only one goes bank then they match the Banker wager and if two go bank then they split the wager.
The designated Player on either side will also shuffle the deck (usually 3 decks) with the Banker shuffling last and offering a cut to anyone. The Banker will deal three cards face down then three more face down to the Player on the right, the Player on the left and to the Banker themselves in order. Betting and play otherwise follows Chemin de Fer rules, including whether a Player draws another card or not.
A Player may go bank up to three times before passing the option on. The Banker can remain as long as they are willing to place the minimum wager. If the Players bet more than the Bank, then the bank is not responsible for losing the excess. The money will be paid out in order with the last bets not getting paid unless the Bank has agreed to match the total wager.
Reasons to love online baccarat:
Of all the casino games, Baccarat is relatively easy to master
There are a wide variety of online baccarat games
Baccarat offers great betting odds and some low house edge percentages
One of the best casino games to make a profit
Some things you may not love:
Playing online baccarat uses RNG's which not everyone is comfortable with
Unless you're playing Live Dealer baccarat, online baccarat lacks that human touch.
More Online Casino Games