Ariana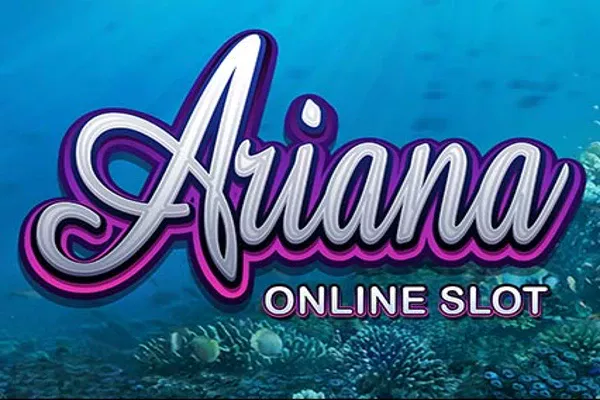 By Microgaming
Slot Game Information:
Ariana may just be one of the most soothing slot game currently available on the internet. This Microgaming slot was clearly designed with an idea of providing a gaming experience which is easy on all the senses, with both the graphics and the sounds being quite likely to put you to sleep after a while if there wasn't for the element of money being wagered. If you were looking for a slot game without the annoying loud sounds and tacky graphics, than you are in the right place as Ariana offers just the opposite experience.
The game is themed with the motives from the very bottom of the ocean depths and everything about the game simply resonates peace and calm. On a more technical level, we are talking about a 25 payline, 5 reel slot with Free Spins, stacked symbols on reel one, expanding symbols on later reels and a Wild symbol which can be stacked across the reels during the Free Spins. All these awesome features add the excitement to this soothing slot and the two combine to make up quite an amazing game.
---
Ariana Slot Gameplay
The Ariana slot features a layout fairly standard for Microgaming slots, with 5 reels of 3 symbols each and a this particular game features 25 paylines across those reels. The payouts for regular paylines are not very large as even 5 consecutive Wilds on a payline will only pay you 10x the total bet, but the real value in this game comes from the stacked symbols.
There are no coins or paylines choices for players to make in this game. You are forced to play all 25 paylines and can bet anywhere between $0.25 and $125 per spin, allowing your everyday Joe and your major high stakes gambler to both enjoy the game in their own way. The game also features an Autoplay option which allows players to play without having to click every single time, making it possible to simply sit back and enjoy the spectacle.
There are really two main ways of winning money in Ariana, and both are related to stacked symbols. The most common way you will get a big payday in Ariana is by hitting a full stack of one of the higher paying symbols on reel one, and one of that same symbol on consecutive reels. The symbols then all expand and you can end up with 25 full paylines of a single symbol, which is clearly a major payday. The other way is of course the feature game which we discuss a bit further below.
As we already said, the simple payline wins are quite low in Ariana, but when stacked symbols come into play they tend to multiply quite fast. Here is what each symbol can pay:
Scatter: 100X Total Bet for 5 Scatters
Ariana Wild: 10x Total Bet 5 Ariana Wild Symbols
Lady Ariana: 8x Total Bet for 5 Lady Ariana
Seaweed: 7x Total Bet for 5 Seaweeds
Treasure Chest: 6x Total Bets for 5 Chests
Coral Reef: 5x Total Bet for 5 Reefs
Ace: 2.4x Total Bet for 5 Aces
King: 2x Total Bet for 5 Kings
Queen: 1.6x Total Bet for 5 Queens
Jack: 1.2x Total Bet for 5 Jacks
Ten: 1x Total Bet for 5 Tens
Ariana Graphics, Animations and Sounds
As we already discussed the Ariana slot features graphics and animations that have a truly soothing and relaxing effects. The background of the slot is an image from the deepest and most beautiful parts of the ocean floor and the predominantly light blue theme of the game absolutely resonates peacefulness.
The animations and sounds go hand in hand with this as they are not obtrusive and tend to follow a pattern of absolute calm. The only time the game makes sounds that are a bit louder and more in your face is when you hit a major payout, which is the right time for it no doubt.
At all other times, the slot uses mild background music and ambience sounds to make your every spin as enjoyable as possible. Overall speaking, Ariana is a work of art when it comes to graphics and sounds as not a single detail was simply copied out of another game or left to chance.
Ariana slot Jackpot
Ariana slot does not feature any particular jackpots per se, but there are some major wins to be had without a doubt. If you can simply find 5 Scatter symbols anywhere on the board, you will not only activate 15 Free Spins, but also earn 100x the total spin bet, which is not too bad for a single spin's work.
During the feature game, the Wild symbol becomes staked, making it possible for the entire board to be filled up with Wilds, paying out 250x the total spin bet. In either case, the true jackpots in this game come from reels full of stacked high value symbols.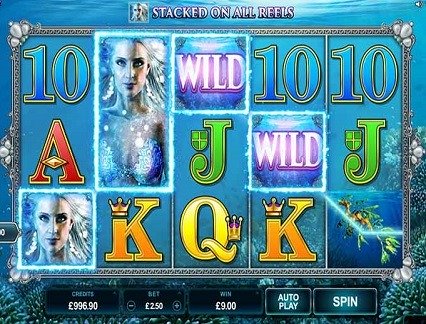 Ariana Feature Games: Dive Deep For The Free Spins
With just a little luck, you will be able to find three or more Starfish Scatter symbols somewhere on the reels during one of your spins. When this happens, the game awards you with 15 Free Spins, during which the Wild symbol becomes stacked along with the other symbols of high value, making even more major wins possible.
This is really the best time to hit your big payouts as the stacked Wild means the Wild symbol will be expanding on the other reels as well and this can result in major wins, up to 250 times your initial bet for a single spin.
At the end of the day, whether you are a novice player or an experienced pokies player, you will likely enjoy playing the Ariana slot at your own stakes and the pace you choose. Simply join one of our many Microgaming casinos, create an account and experience the Ariana right now, a great slot game for real money.
What's Next: More Slot Games