Wheel of Fortune Online Slot Machine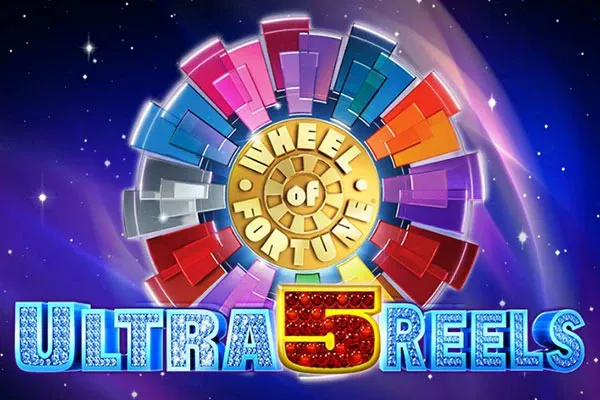 By IGT
Slot Game Information:
The Wheel of Fortune TV show is easily one of the most famous shows in television history. Most countries have their own version of this incredibly popular TV show, which gives further credit to its broad appeal. Hence, it is no wonder that someone came up with the idea to make a successful online slot game with this theme in mind. IGT developed the Wheel of Fortune slot in 1996, which makes it one of the oldest slots, but also one of the most popular slot machines out there. you can experience the game on OJO casino, This is definitely one of the favorite games according to slot fans, and the new releases in this series have only cemented its importance in the gambling world.
---
How to Play
Unlike most top Canadian online slots, Wheel of Fortune has the regular 5 reels, but only 5 fixed paylines. Nonetheless, this does not reduce the number of ways to win, since there are over 700 winning combination possible. Players can bet anywhere from $0.01 to $5. The game provides symbol combinations that can go both from left to right, as well as from right to left, which will further increase your chance to make big wins. The largest wins include 50,000 coins, with 2,500 coins being the second largest possible win.
The Wheel of Fortune symbol will act as the Wild symbol, in addition to being a multiplier, doubling all your wins, and replacing other symbols to form winning combinations. The Wheel of Fortune symbol can act as a Wild for all symbols except the Scatter symbol.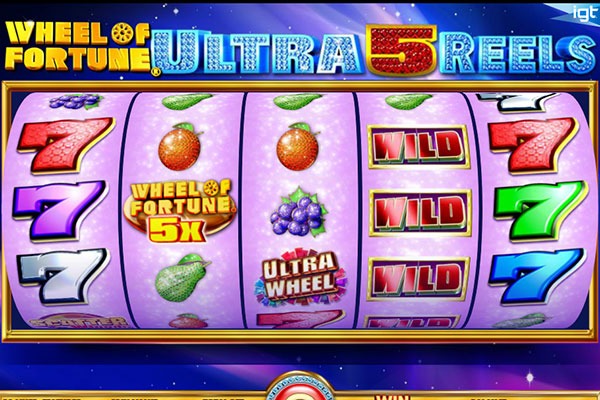 The game uses a similar concept as the TV show, using the fortune wheel. When you spin the reels and land more than 3 Scatter symbol on an active payline in any direction, the Scatters will turn into turn into smaller spinning wheels, creating more combinations. To activate the bonus game, you need to land 3 or more bonus symbols on an active payline, and the game will then take you to a separate screen using animations.
Gameplay Experience: Graphics and Sound
IGT casino software released the latest version of Wheel of Fortune called Triple Extreme Spin, which features an original design with 3 spinning wheels that operate mechanically. This adds another special layer to the game, giving the player more opportunity to win spinning concentric discs. And while the new design might be a bit complicated at first, it definitely adds more appeal to the game. When you play the Triple Extreme Spin bonus game, the game will literally take you to a game show setting using a series of animations. This includes light and sound effects that give you a feeling as if you were actually experiencing the real show.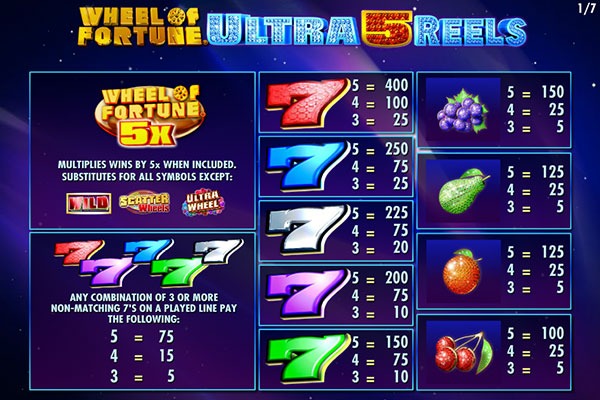 Jackpot
Wheel of Fortune has no progressive jackpot, but there is a giant jackpot players can win with regular spins, which amount to 500,000 credits.
Special Features
When you manage to land three or more bonus symbols, the game takes you to a game show setting, which includes three spinning wheels, a red, a blue, and a yellow one. The yellow wheel determines the multiplayer, with the red and blue wheels determining how many coins you have won. This bonus round also includes a picking game where you have to choose envelopes containing categories used to solve the world puzzle. Picking one will start adjusting the pointers on the wheel, and when they have finally aligned, the resulting spins and value will award you your bonus.
What's Next: More Slot Games