Kahnawake License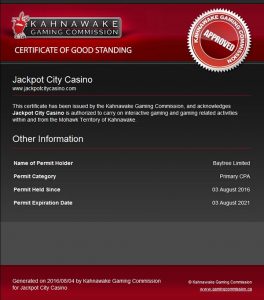 The Kahnawake Gaming Commission was first introduced in 1999 and provide licensing solutions to casinos operating from the Mohawk Territory. Similar to the beginning of the Malta gaming authority, the Kahnawake licensing body started off rather poorly by not making sure online casinos live up to the policies of the agreements. Therefore, a rather poor reputation was detained for casinos operating under the license, forcing fair and trusted online brands to reconsider who they operate under.
However, just like the Malta authority, Kahnawake also stepped up their game in the last few years, taking on a strict and serious tone with online casinos to provide players with the best possible gambling opportunities. Even though they don't have the same volume of casinos any more, many new establishments are turning to the new licensing body who managed to turn a new page in terms of what they stand for and how they appear in the industry.
Not only do casinos operating under the license need to follow strict rules and regulations, but players have the ability to ensure gambling establishments have a valid license by using the numbers at the bottom of any Kahnawake licensed casino and testing the authenticity on the KGC website.
Many of the best Canadian online casinos operate under a license agreement for Kahnawake. Some establishments choose to go with multiple licenses, allowing them to reach a much bigger international market while also gaining a higher level of trust since they need to follow the rules and regulations set out by each of those agreements.
Why Choose KGC Casinos
Online casinos for Canadian players commonly operate under the rules and regulations of the Kahnawake Gaming Authority, giving players the benefit of a casino environment offering the highest standard of security and gaming features.
Canadian online gambling sites that are licensed by more than one body tend to offer even higher levels of security, especially those operating under the Curacao, UK or Malta authority in addition to Kahnawake. These casinos tend to include gaming software that also meets the requirements of the licenses, giving you the ultimate in fairness and professional gaming opportunities.
With these and many other benefits, it's really easy to see why a Canadian casino with a Kahnawake license is a must. There are still casinos that cater to Canadians without operating under a trusted license, which are the ones that commonly present payment problems and offer software that simply doesn't live up to the standards.
As a member of a casino operating under this license, you have the right to complain about any aspect of the casino, which is taken seriously and investigated.
KGA Gaming Software Licenses
An online Canadian casino with a Kahnawake license has to pass various tests before it's granted. The games they feature need to be of a certain standard and provide a return to player percentage above a certain level. Therefore, these casinos tend to provide some of the fairest games available while also ensuring promotional terms and conditions reflect fairness.
The licensing body performs various random testing that doesn't only apply to the games to ensure random results and accurate payout percentages, but to the casino's security and responsibility as well.
Join A Kahnawake Gaming Authority Casino Today!
The Kahnawake Gaming Authority might have started slowly by not delivering the same level of gaming excellence as the other licensing establishments, but over the last few years things have changed drastically, making them one of our top recommendations.
To discover the very best in online casino games and service, join a Canadian casino with a Kahnawake license and never worry about fairness and security or being scammed at a casino again!