Slots Tournaments: Why you should be playing
Whether you like to visit brick and mortar casinos or play online from the comfort of your own home, without a doubt, slots are the biggest game going. Canucks love to play all sorts of slot games, from classic 3 reel slots made popular in the fifties and sixties, to modern day 5 reel cutting edge video slots.
If you've only just discovered slots, particularly playing slots online, or you want to take your slots gaming to the next level, getting into slots tournaments may just be your next step. Online slots tournaments are becoming more and more popular across the web, with more Canadian online casinos offering them to players of all level of experience. Why play slots alone when you can join in the fun and beat all your rivals for tons of great prizes?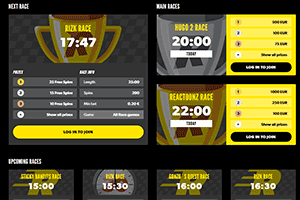 Top Slots Tournament Casinos
What are slots tournaments and how do they work?
Slots tournaments come in a wide range of types to suit different needs and purposes. Slots tournaments are basically special competitions that are usually organized by the online casinos or even by specific slots software providers like Microgaming. Slots tournaments are usually open to all members of a particular online casino, as long as you have signed up for membership. This is a little different to land-based casinos slots tournaments where you can just walk in and buy your seat at the tournament.
Within the online slots tournament context, once you've signed up to play in slots tournaments, you can select from a range of different tournament options and directly compete against other players in real time. Most tournaments will make a prize available which can be a cash prize or some other form of reward, such as online slots Canada free spins, cash bonuses, physical prizes and so forth. Some tournaments offer a progressive prize, meaning that as new players join and compete, so the grand prize worth grows.
Enjoy playing slots from your phone? Well there are mobile casino slots tournaments as well. Most online casinos offer them as an option as long as the online slot game being played is available on mobile as well.
Slots Tournaments Online Categories
There are a wide range of slots tournaments to choose from at most top online casinos or brick and mortar establishments. You may also find that certain slots tournament types can intersect. So, for example, your buy in tournament can also be a same day tournament. However, there are essentially six main tournament types:
Freeroll Tournaments: These are free to enter slots tournaments and are often part of a bonus for new or frequent slots players. Freeroll tournaments are very popular although often the prizes are more on the low side.
Same Day Tournaments: These slot tournaments are usually fairly short and are popular because finding a winner is quite business. Same Day tournaments are usually timed and all contestants have a clock that they can watch to see how much time is left in the tournament.
Buy In Tournaments: Buy in tournaments are usually open to all players and require an entry fee which gets added to the grand prize for the winner.
Sit-and-Go Tournaments: Sit-and-go slots tournaments work in the same way as poker sit-and-go games work. The tournament only starts once the minimum number of tournament contestants have registered for the tournament.
Ongoing Tournaments: These types of slots tournaments take place over an extended period of time, for example a week or even a month.
Scheduled Tournaments: Unlike sit-and-go slots tournaments, scheduled slots tournaments will always have a specific start and end time, regardless of the number of people entering the tournament.
Basic Slots Tournament Tips
You can take a look at our online slot game tips and strategies in general but here is some tournament specific strategies:
Only enter or commit to slots tournaments if you are sure that you will be able to compete on the given day or are sure that you can cover the required costs for tournaments that are not freeroll.
Most slots tournaments measure the amount of time you spin the slot reels, so volume will always win at the end of the day. Be sure that you have enough time or bankroll to be able to compete in the tournament effectively.
Start with freeroll slots tournaments if you are new to the tournament scene so you can learn the ropes and get your bearings before spending real cash on tournaments.
Always practice good and effective bankroll management when entering or competing in slots tournaments. It can be very easy to forget yourself in the frenzy and adrenaline rush and you could run out of money or over extend yourself quite easily.